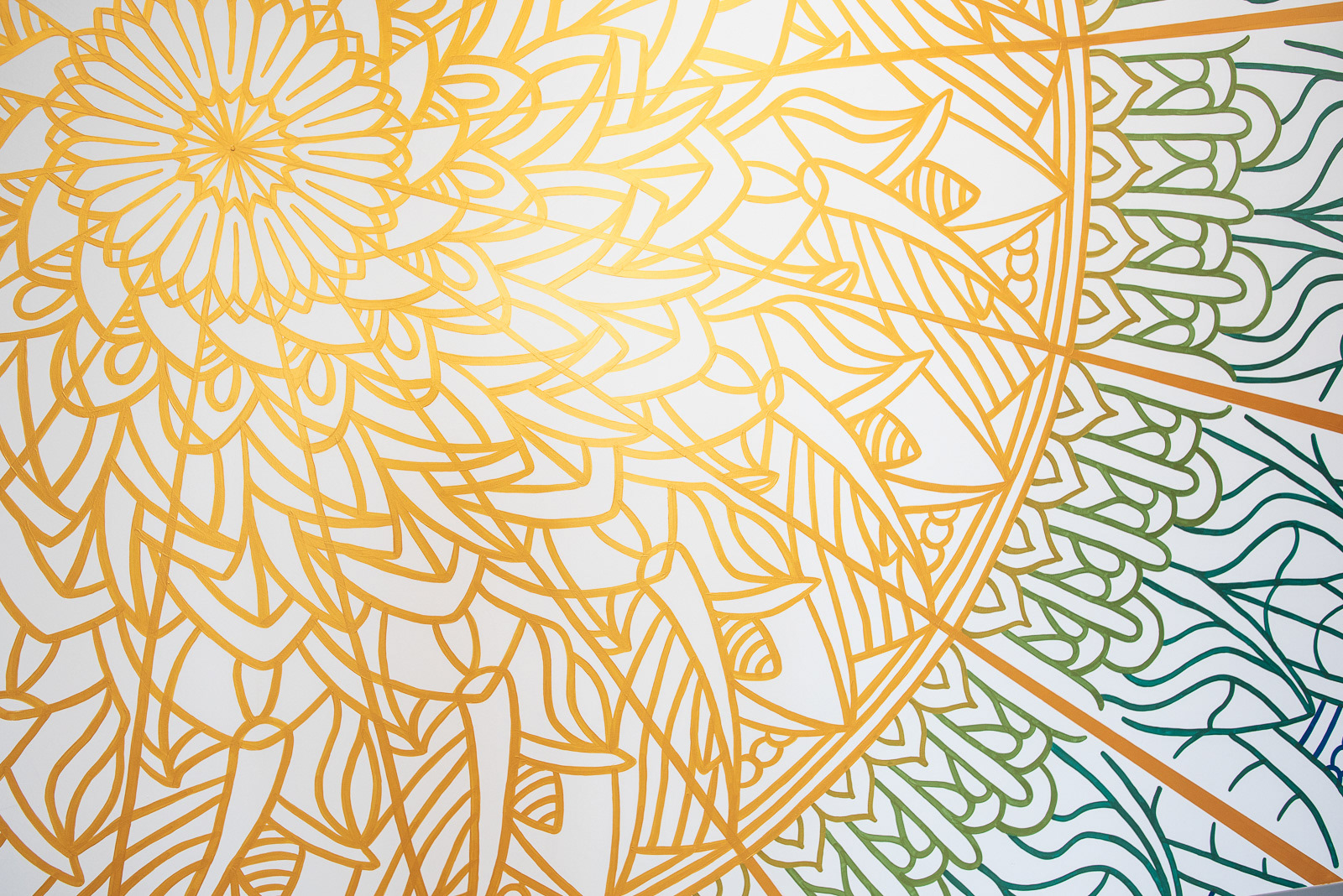 Say YES to things that scare you!
In this case, we said YES to taking on a massive new commercial mural commission for
Allianz Assistance Canada
's brand new Cambridge facility!   
This piece, known as 'New Horizons' spans 51-feet wide and 12-feet tall (624 ft²) and is the biggest indoor commercial mural work we've done to date! And sure, it came with its own set of challenges each step of the way, but together we broke the process down, step by step, and the project came together flawlessly! 
On a warm, summer afternoon in August 2019, we received an email from the procurement specialist at Allianz Assistance Canada, part of Allianz Global Assistance, a German multinational financial services company that specializes in insurance and asset management. Their local Canadian team had outgrown their existing Kitchener-based facility and would be moving into a brand new space!
After an intense search for the perfect location, the Allianz team signed the contract to move into a gorgeous new facility located in Cambridge, Ontario. As part of their new build, they wanted to add a massive new mural in the employee lobby of the new office.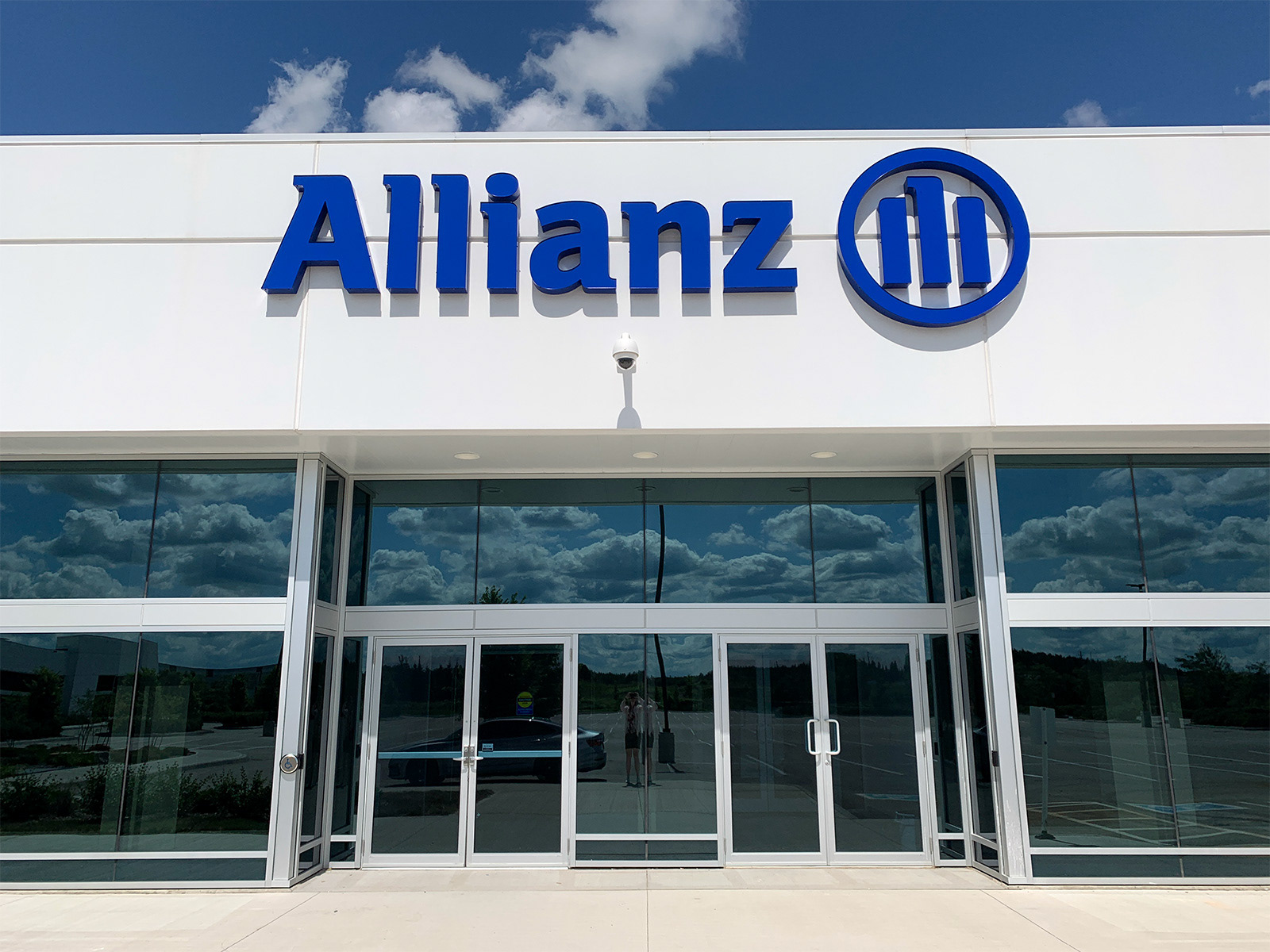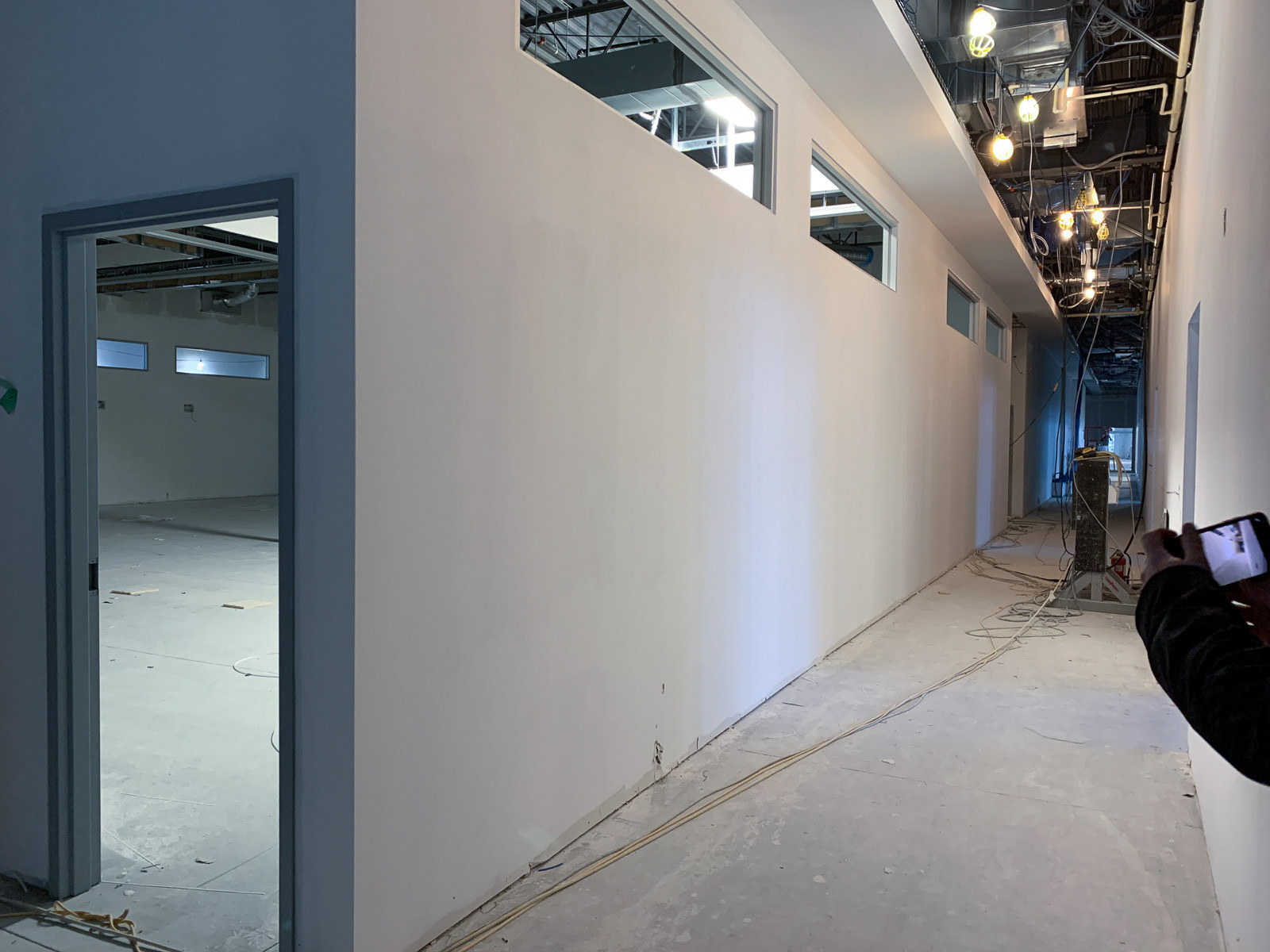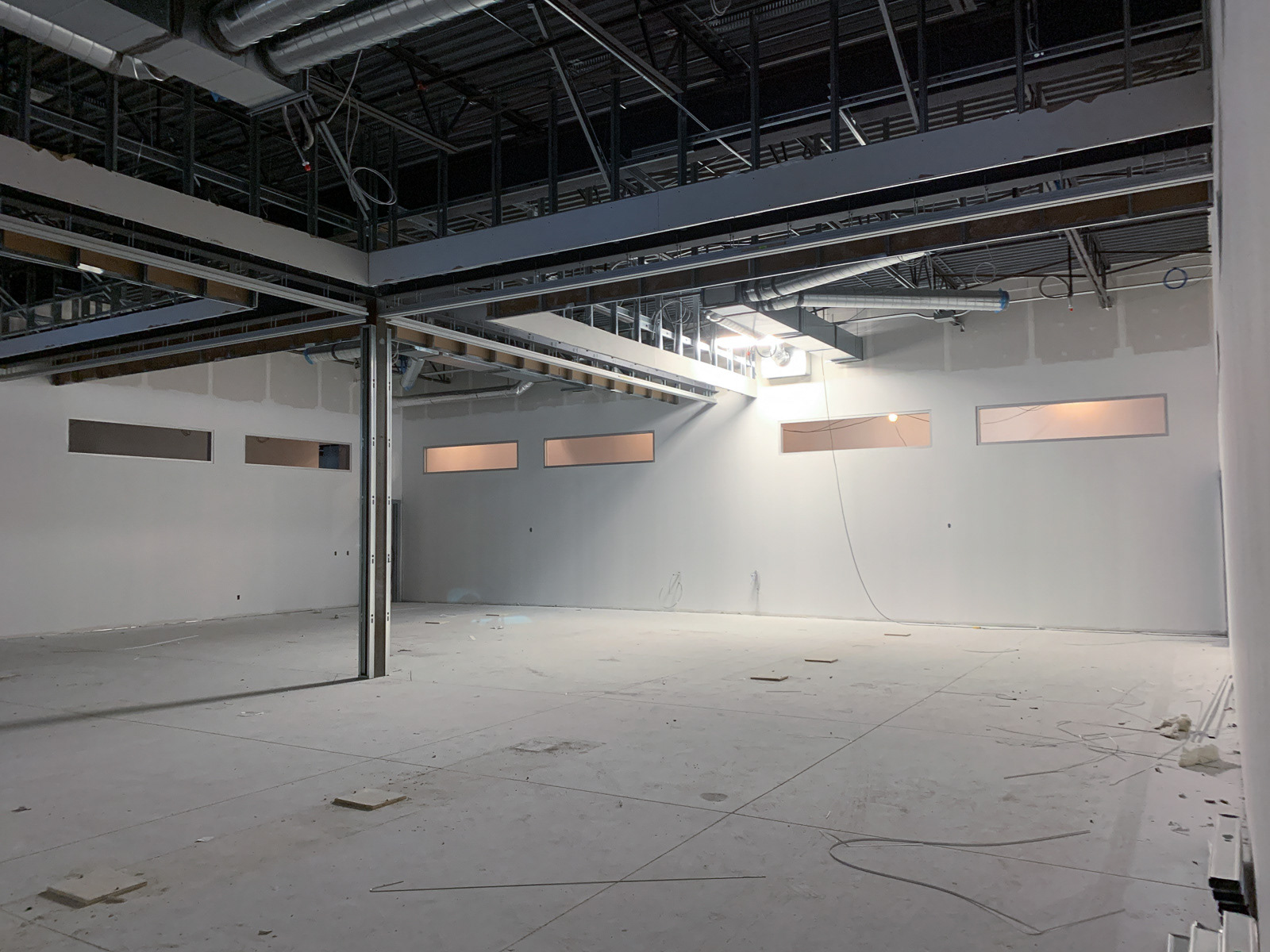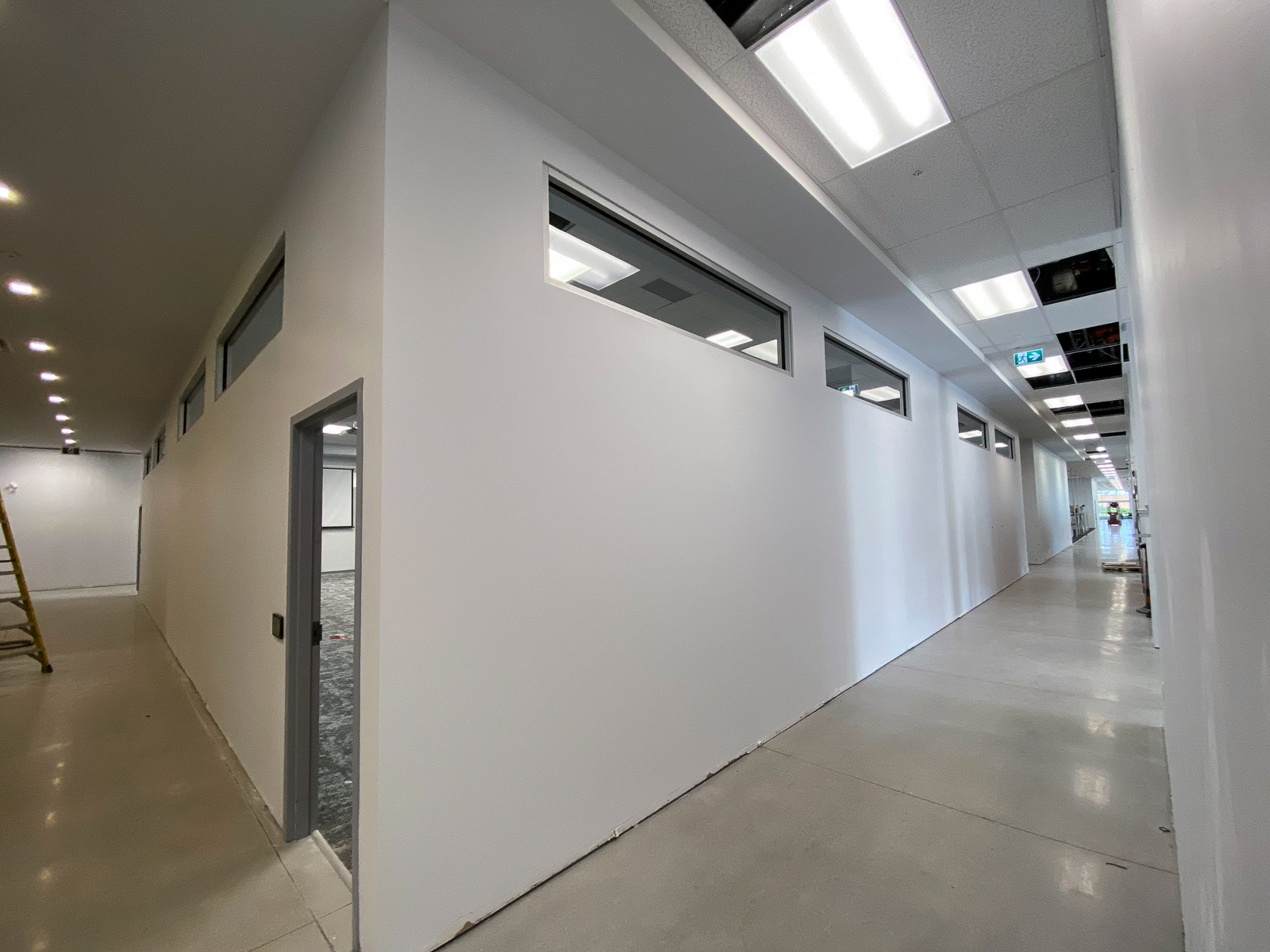 At Allianz, the team helps clients celebrate both the big and small things in life. From those thrilling moments to the quiet contemplation, at the end of the day what's most important to Allianz' clients is that they feel protected, secure, and free–no matter where their personal journey takes them.
When it came to bringing Allianz' mission to life through mural artwork, we knew that we were up for an exciting challenge. To address that challenge, we focused our proposal on two goals: 1) conceptualizing a design that aligns with corporate vision, and 2) illustrating artwork that excites and inspires employees with an interactive experience that doubles as a memorable, engaging backdrop for use on social media.
The Allianz Story as Conceptual Artwork
We noticed throughout our creative process that Allianz' marketing materials feature recurring themes and phrases like spending time in sunshine, enjoying free time, enjoying the journey, how the world belongs to those who dare or take the next step, and the importance of being true to who you are. This got us thinking on a conceptual level about how we could best communicate these themes through custom artwork.
Aligning Our Artistic Vision to Corporate Goals
We brainstormed various ideas and explored multiple directions before committing to a mural proposal which we call
New Horizons
. 

Celebrating the magic and beauty of Sol, the God and Goddess of the sun, we believe New Horizons aligns perfectly with Allianz' brand guidelines, employee experience, and client base–all whom just want to get outside, explore nature, and traverse the world.
The one consistent factor about the sun is that it's with you whenever and wherever you go. So as a travel company, we felt this was a perfect opportunity for Allianz to bring that sense of warmth and energy into the building as artwork.
New Horizons will be the first thing that employees see when they enter the building each morning, and as the last thing they see when they leave each night. 
We hope the mural becomes a constant reminder of the brilliance of working together as a team to reach new horizons, especially as Allianz' employees fulfill their promise of always being there for their clients.
Design Style and Inspiration
Designed on a radial grid, New Horizons arranges beautiful patterns into sun ray shapes that radiate from a common centerpoint. The patterns themselves are inspired by nature and explore rhythms of geometry, balance, and symmetry which we hope moves the viewer into a state of flow. 
Patterns celebrate the formation of life, stars, growth, and the galaxy-while incorporating concepts of diversity, division, unity, balance, density, and complexity.
Colour, Brand and Environmental Considerations
New Horizons will be painted with a rich, warm, metallic gold paint which shifts itself into a contrasting deep, semi-gloss black. This will all be painted over a fresh white eggshell background. As the sun grows out from the centerpoint, the black will fade into an "Allianz Blue" 
Pantone 287C
, then out to a lighter tone as the art approaches the edges of the long hallway.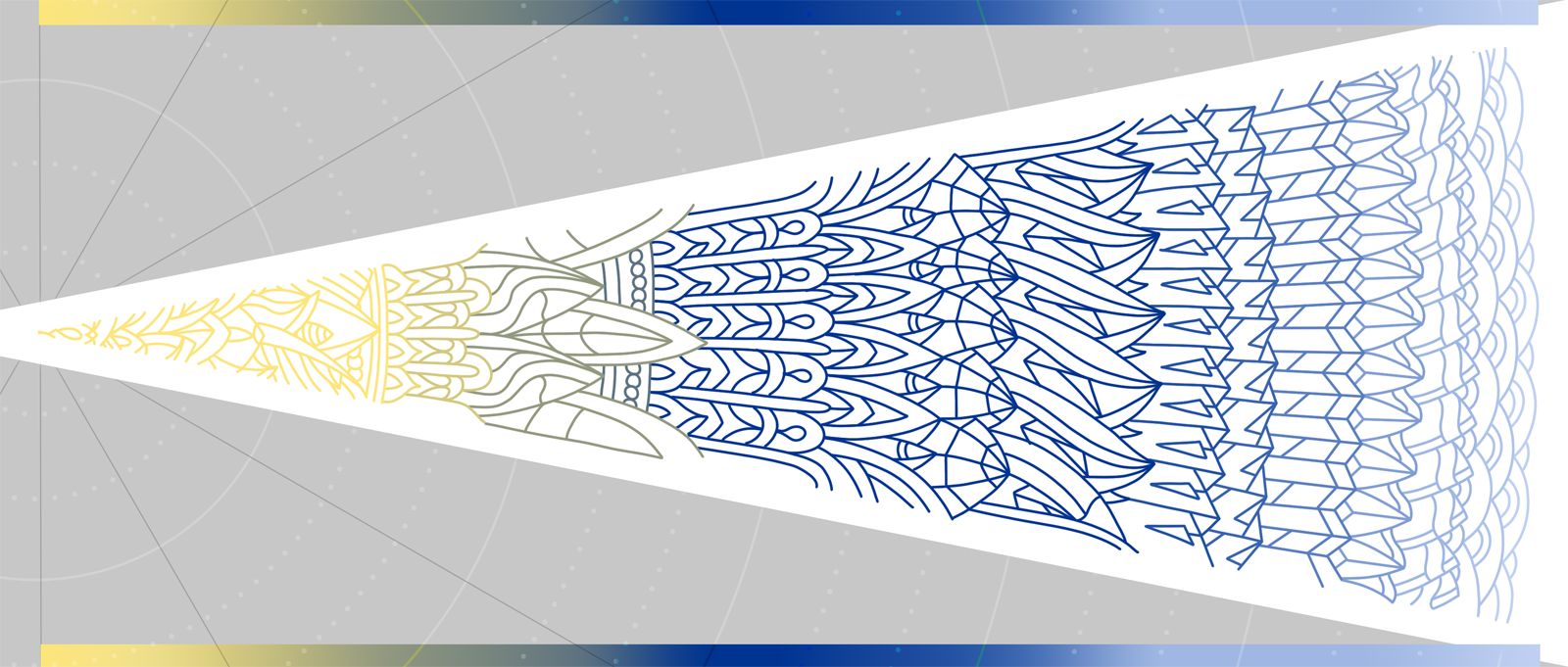 We love working with metallic paints because of the way they interact with natural light. As the seasons change, that sunlight changes, so in essence the sun mural itself will constantly be interacting with the light that floods in from the outside. You can see what we mean in the paint sample below; such reflectivity!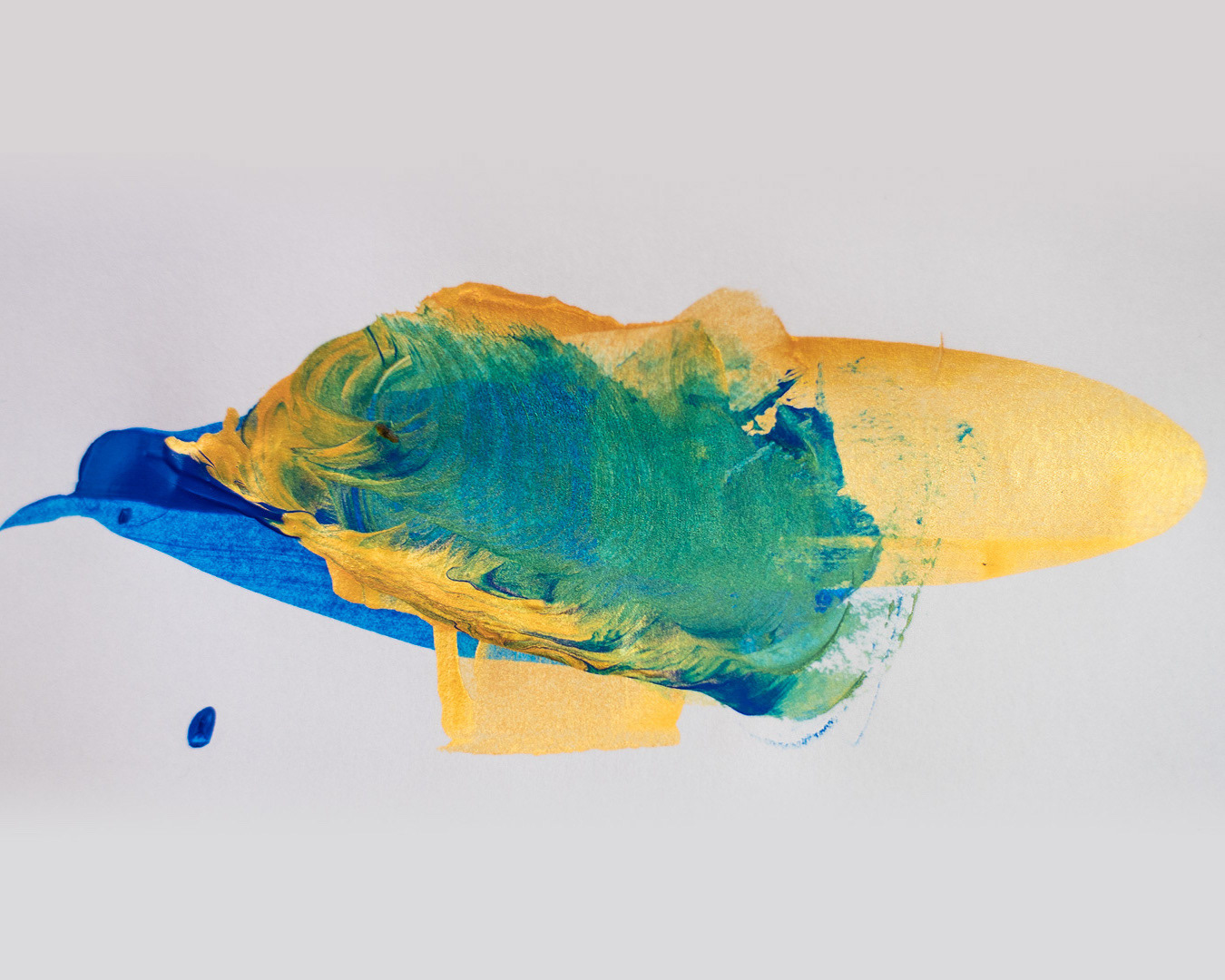 ​​​​​​​
Leaving a Personalized Impression
At the end of the day, we believe that those who interact with the New Horizons mural will build their own personal story based on their life experiences. 
Whether their story includes those thrilling moments to those of quiet contemplation, we hope this mural concept helps Allianz employees and the clients that they help each day feel protected, secure, and free–no matter where their personal journey takes them.
Our Mural Painting Process Breakdown
When we arrived on day one, our first task was to break out the over-arching grid system. The wall wasn't small either; it was a whopping 51-feet wide and 12-feet tall (624 ft²), and precision was a top priority due to the design's symmetrical features.
We hand-detailed and drew the line art onto the wall on day one and two. A mural this complex and dependent on being perfectly symmetrical required incredible skill and experience. We knew that if any of the mural was drawn incorrectly, it would show in the final art.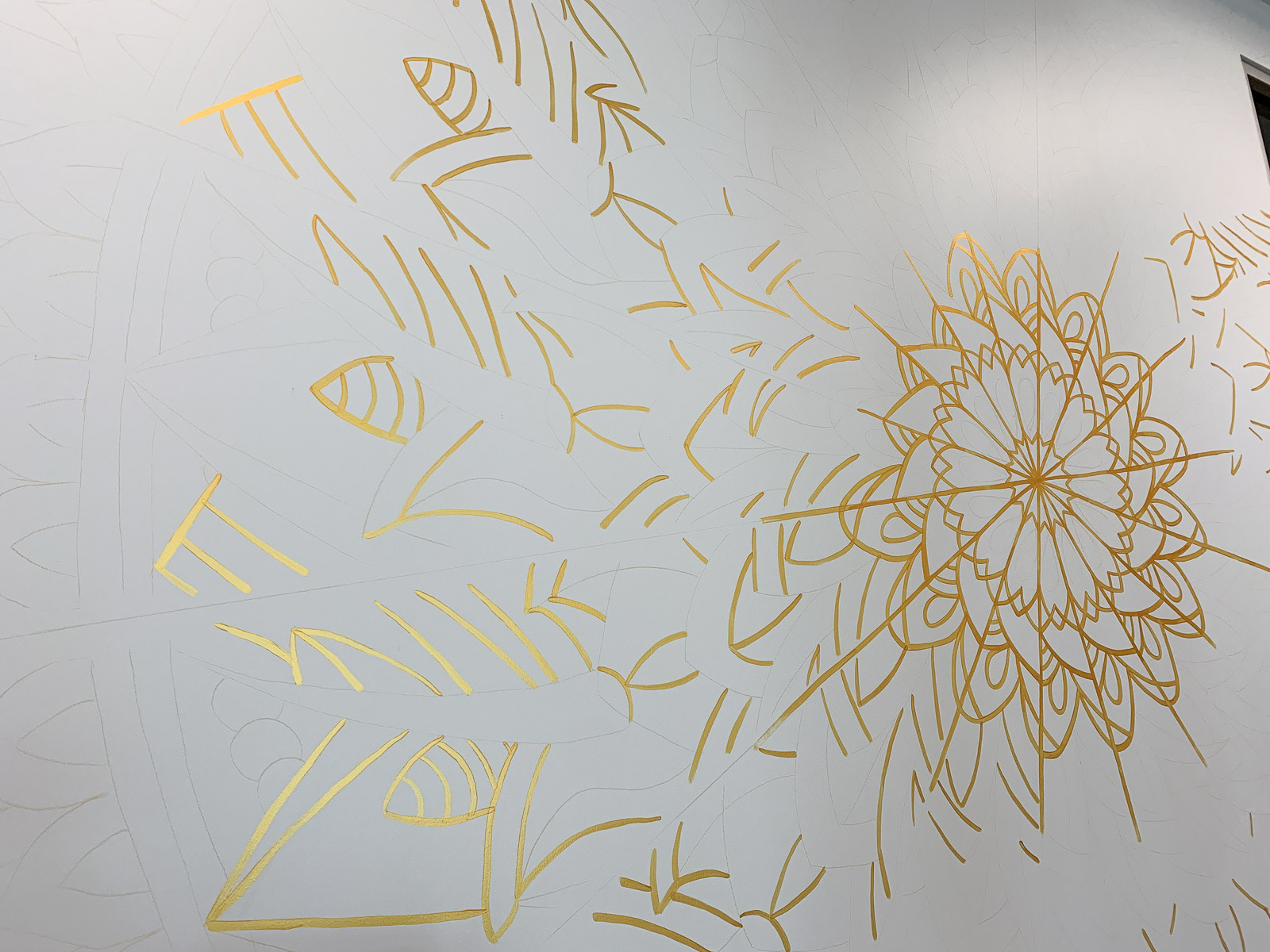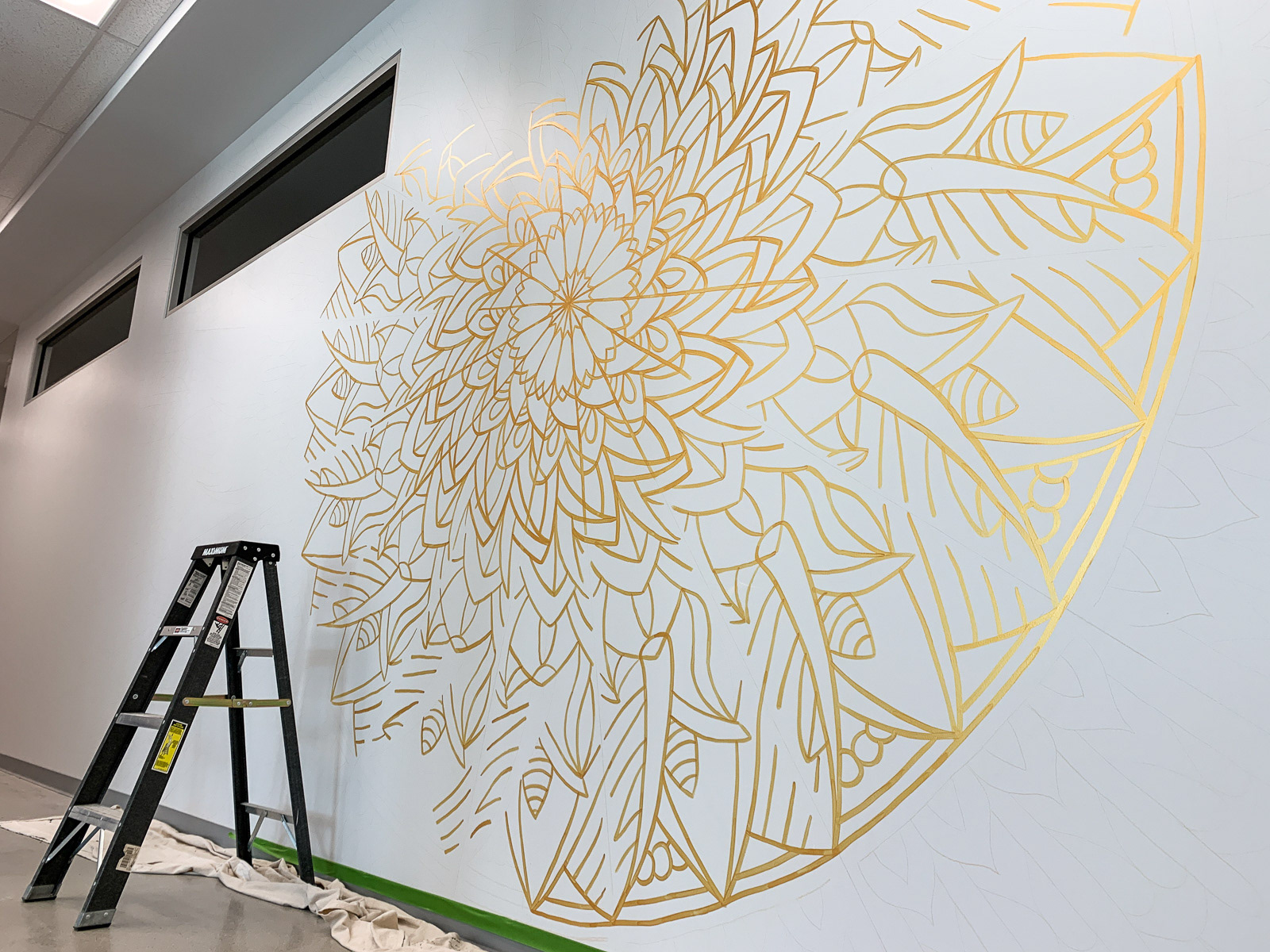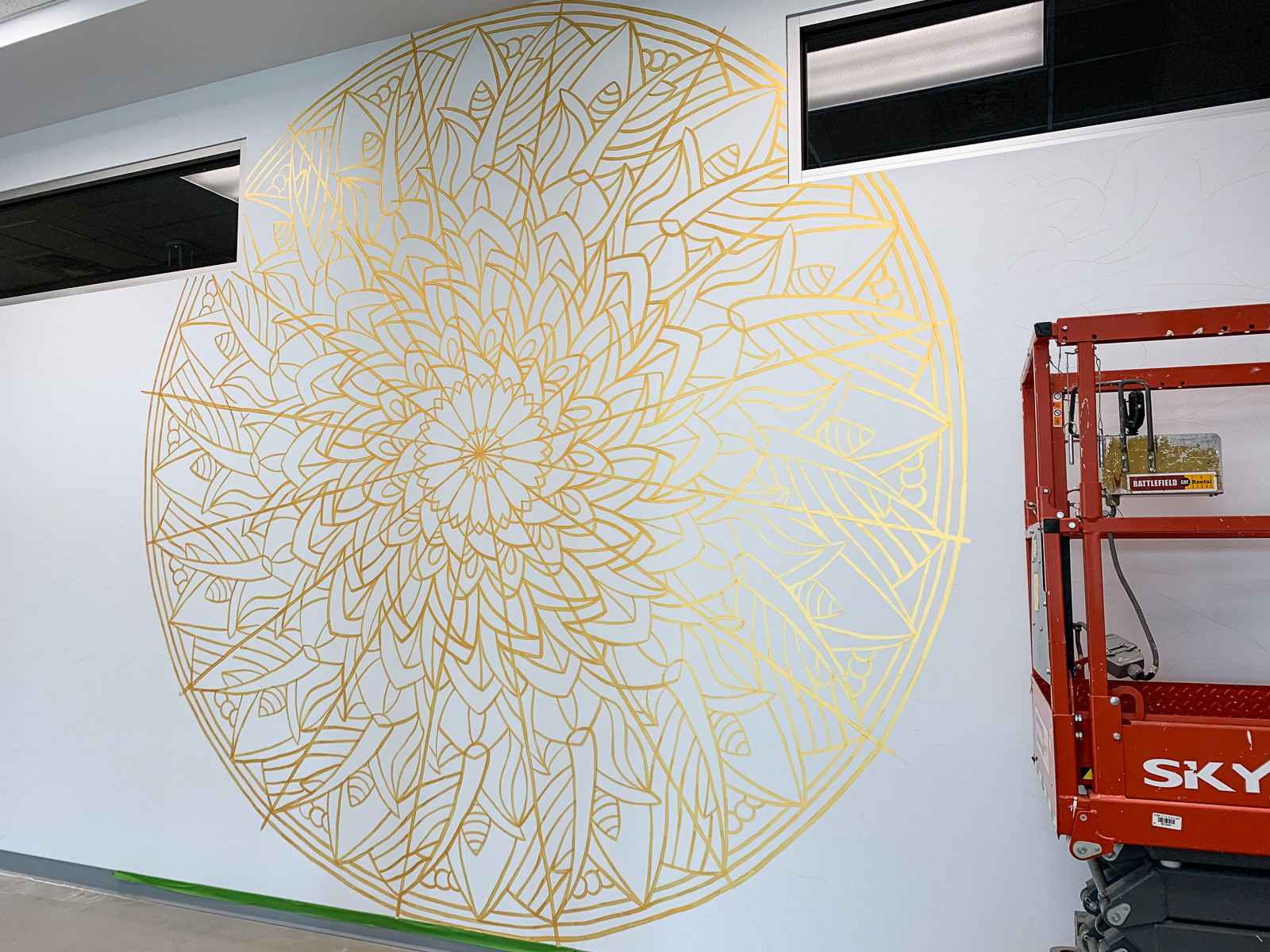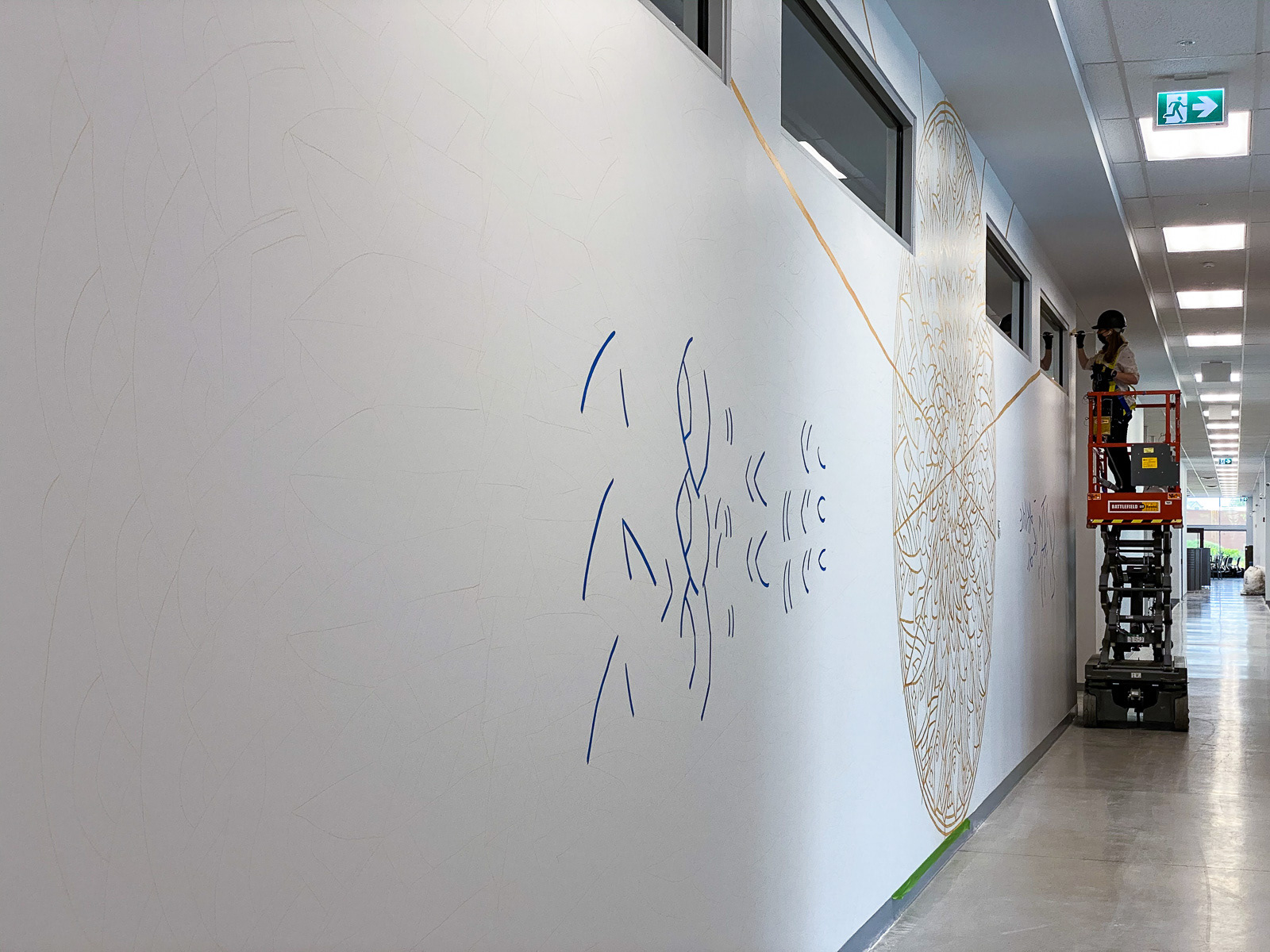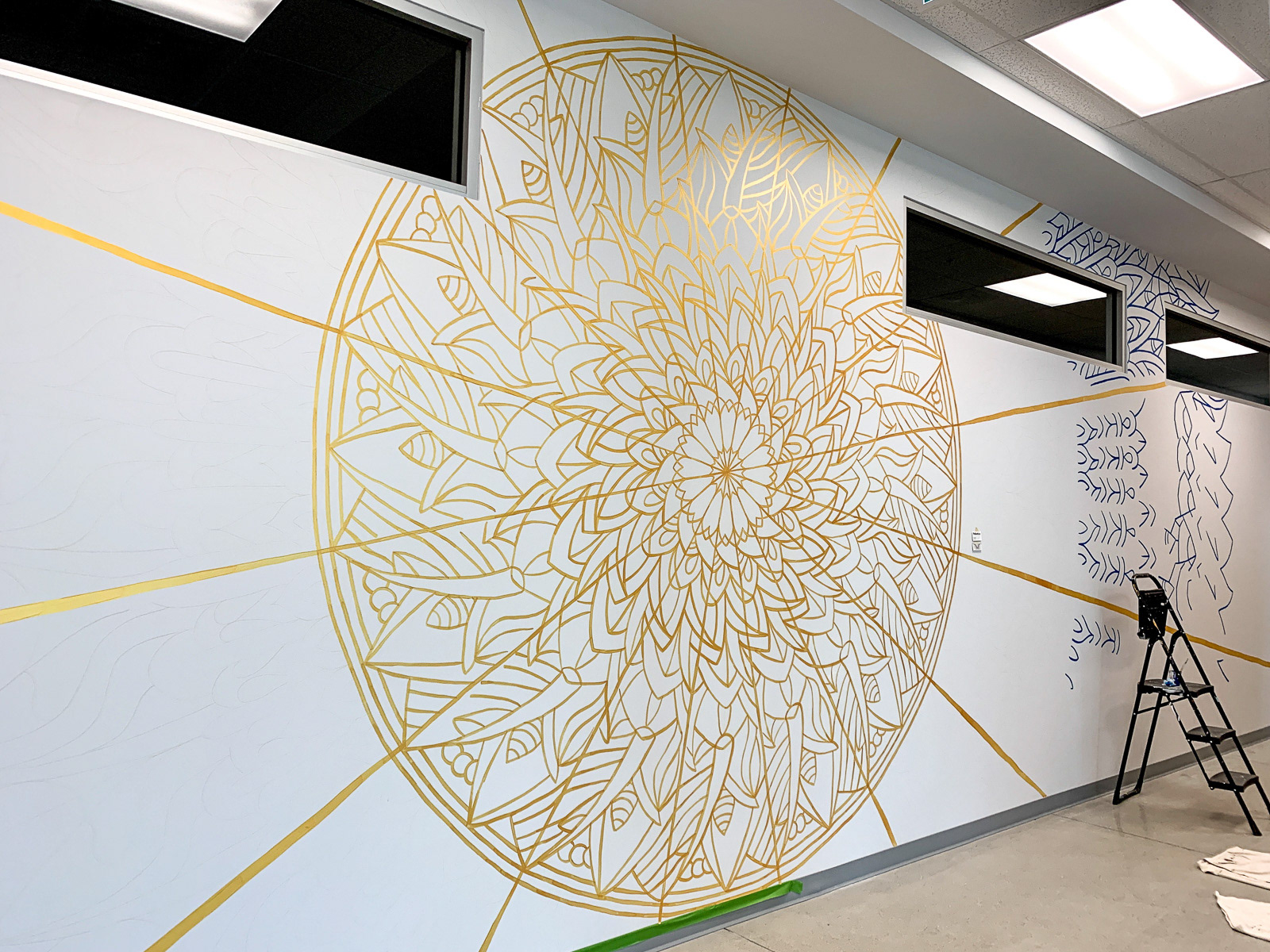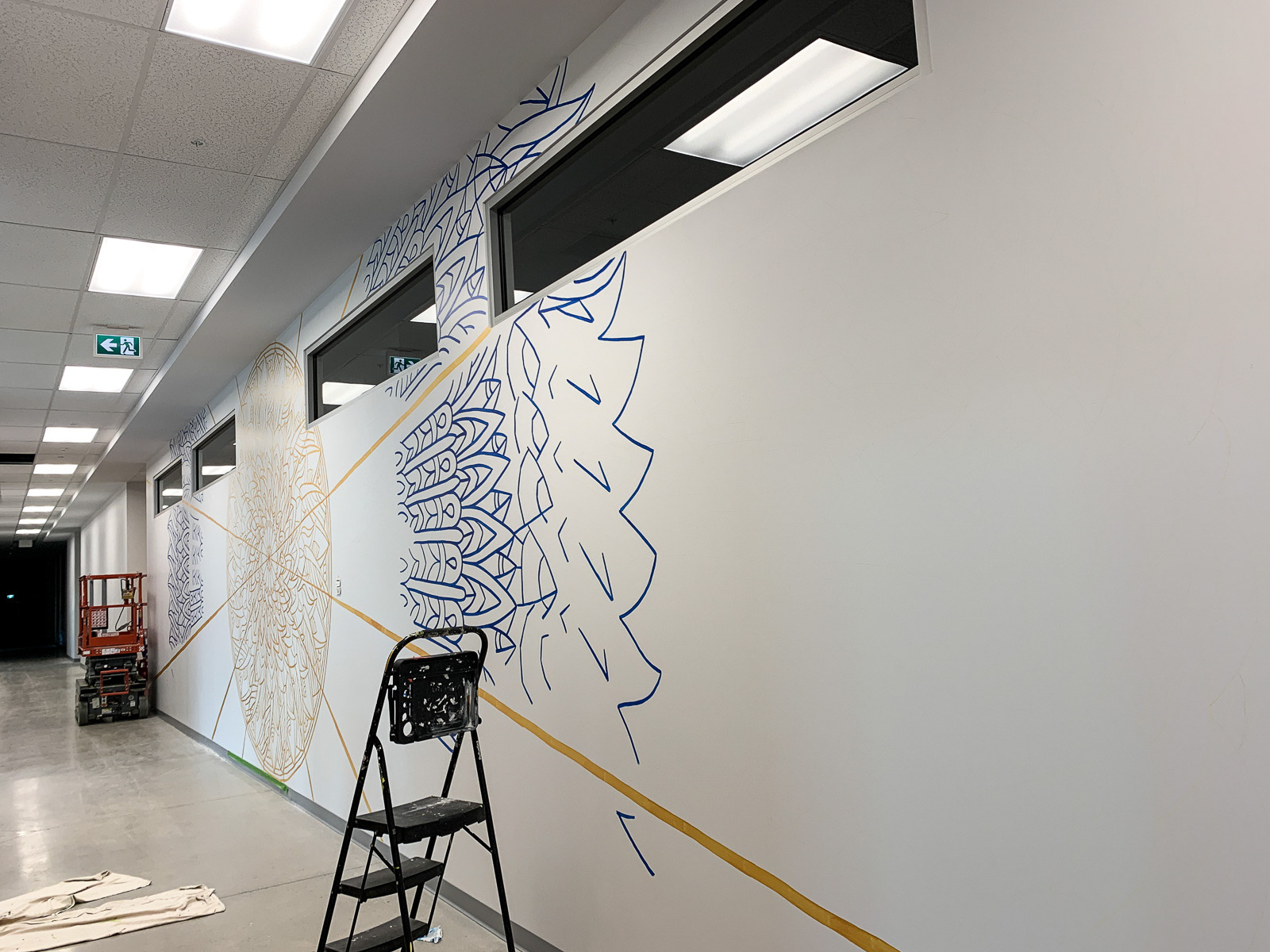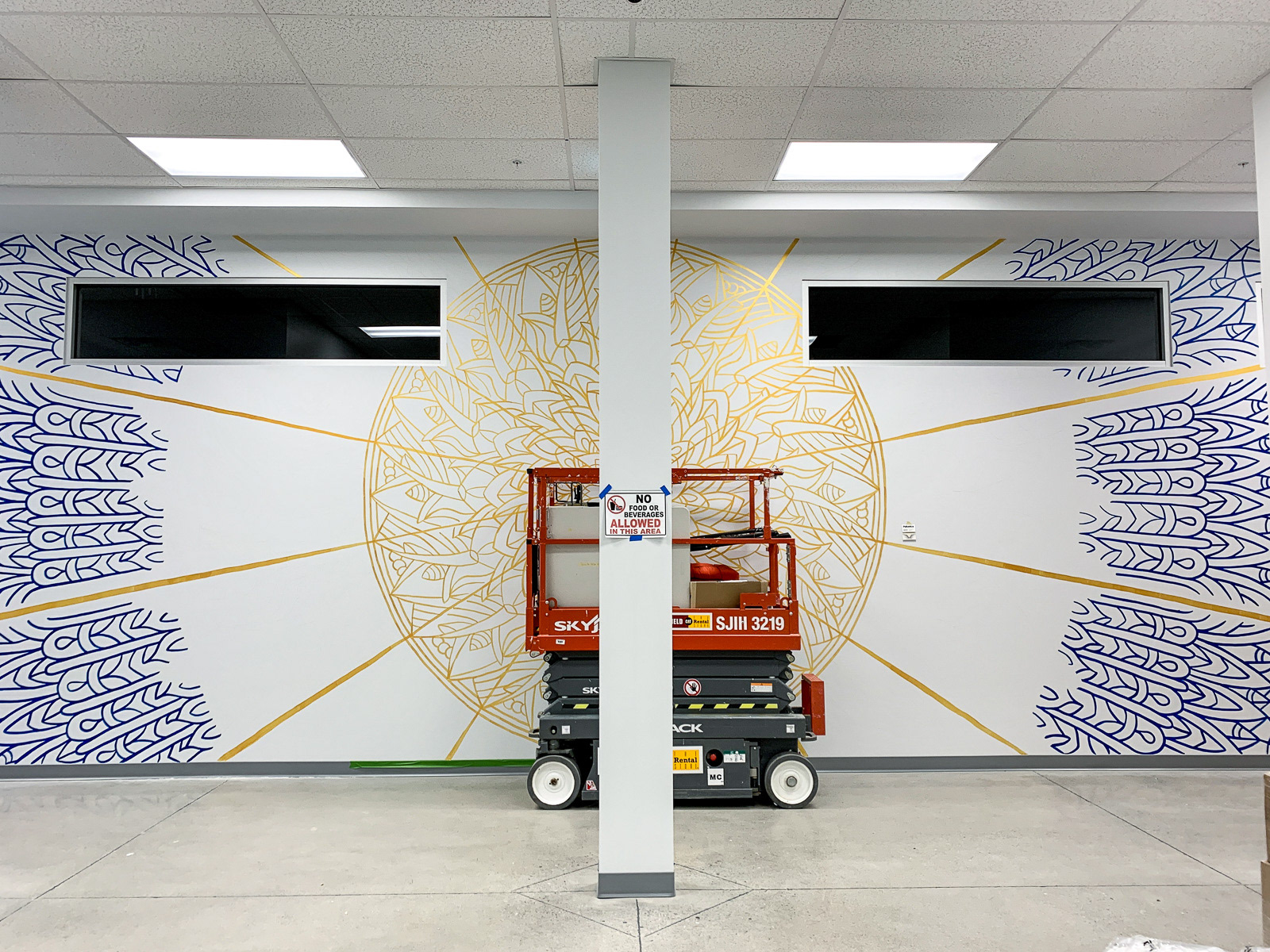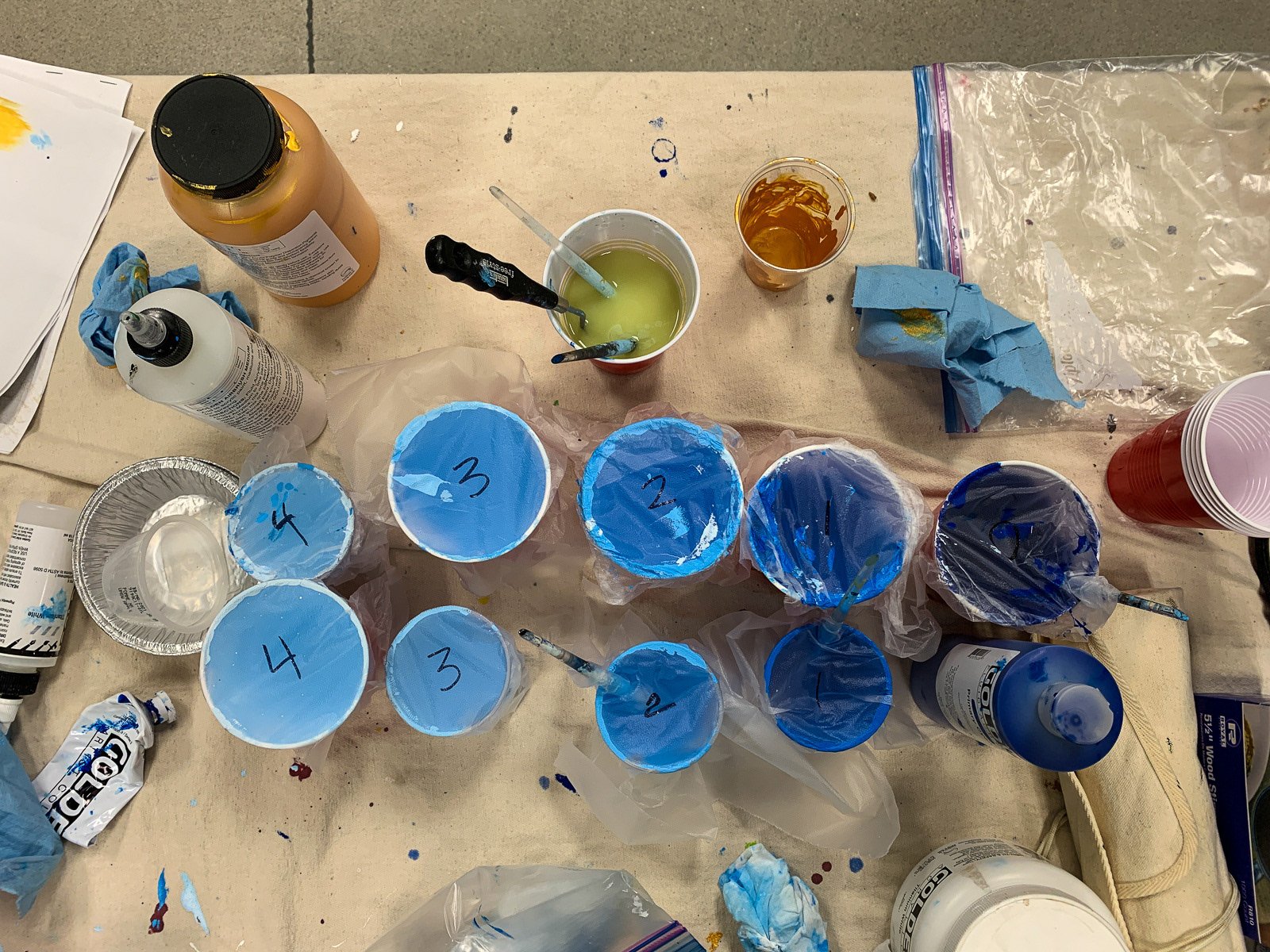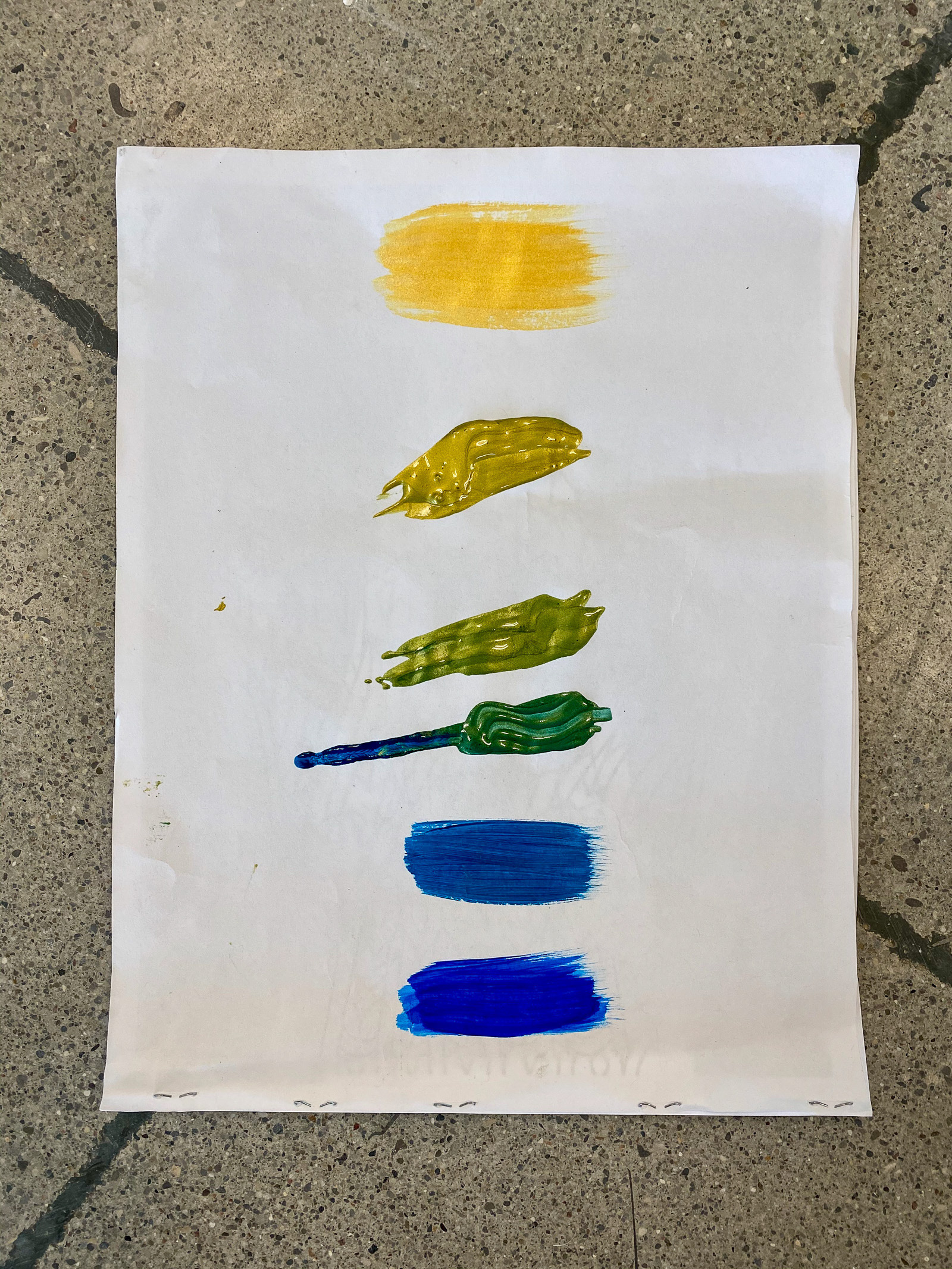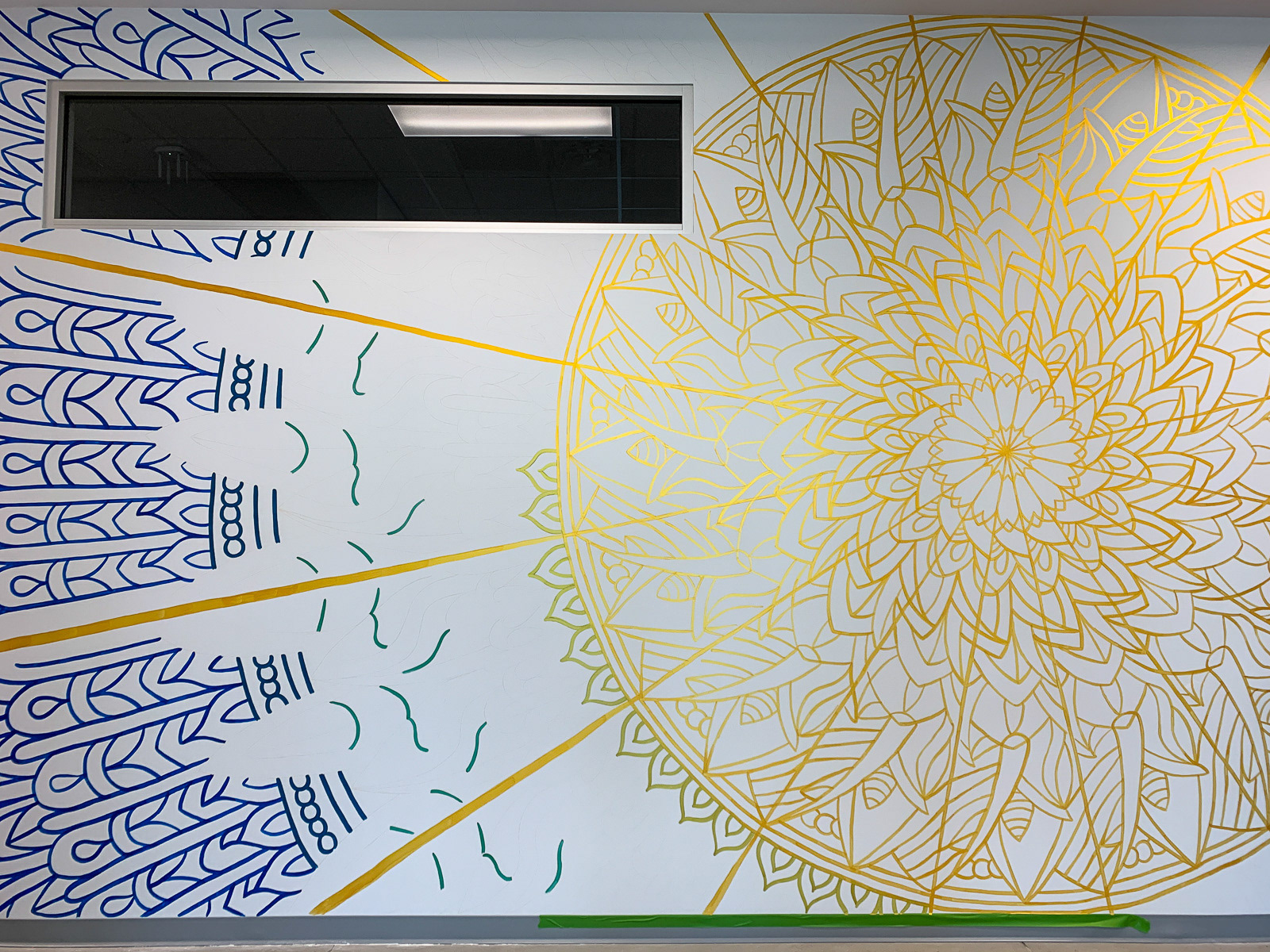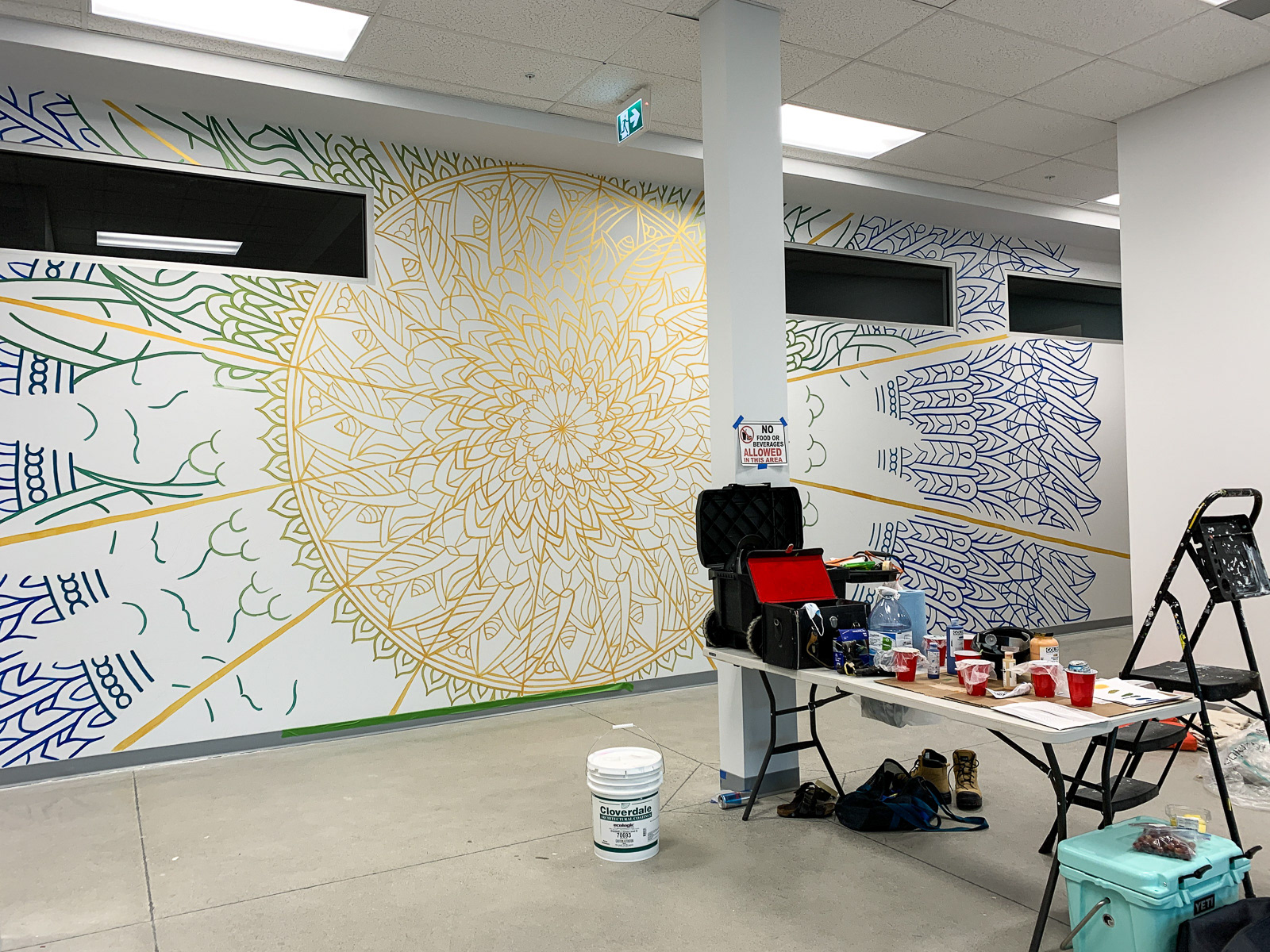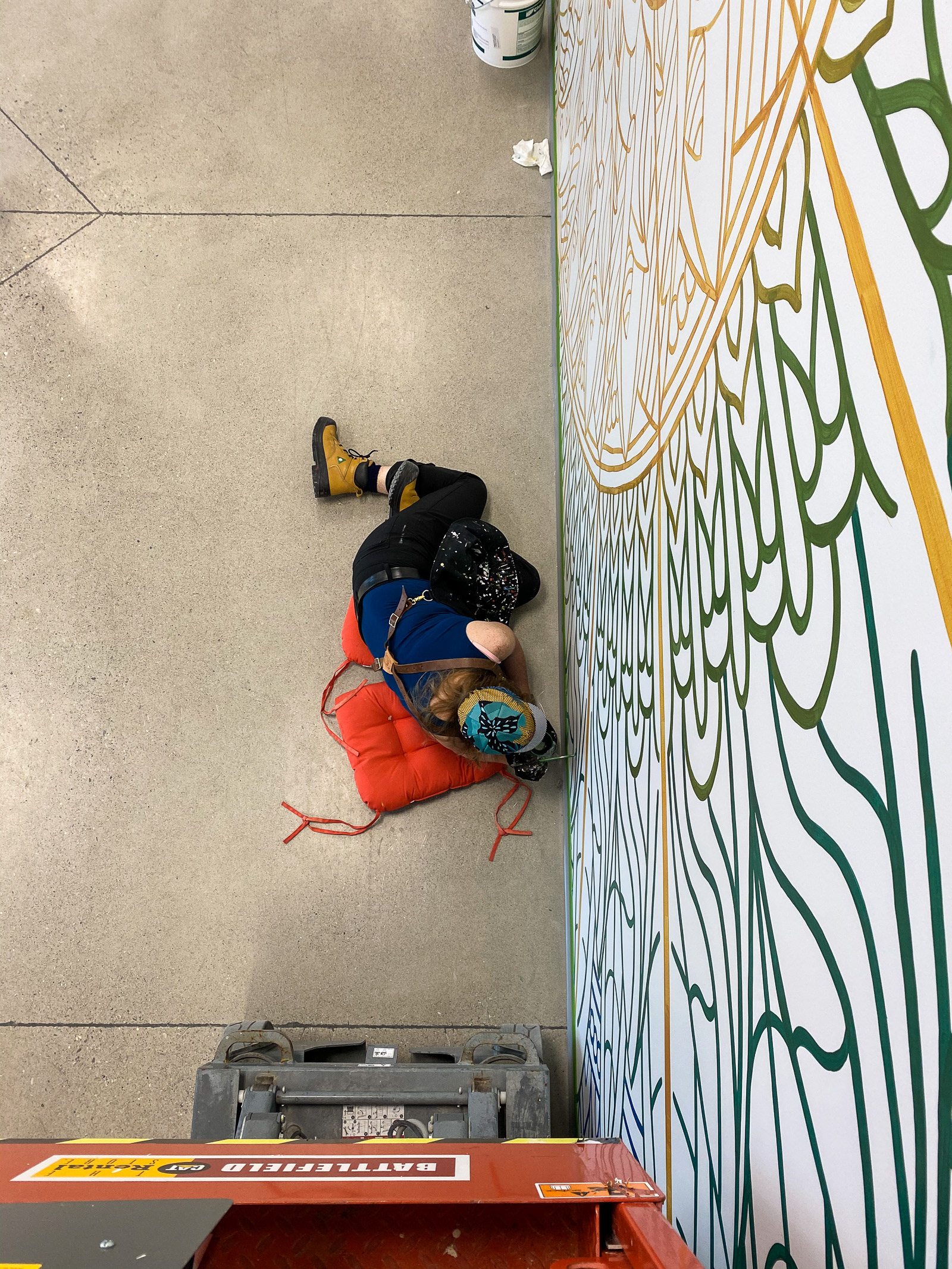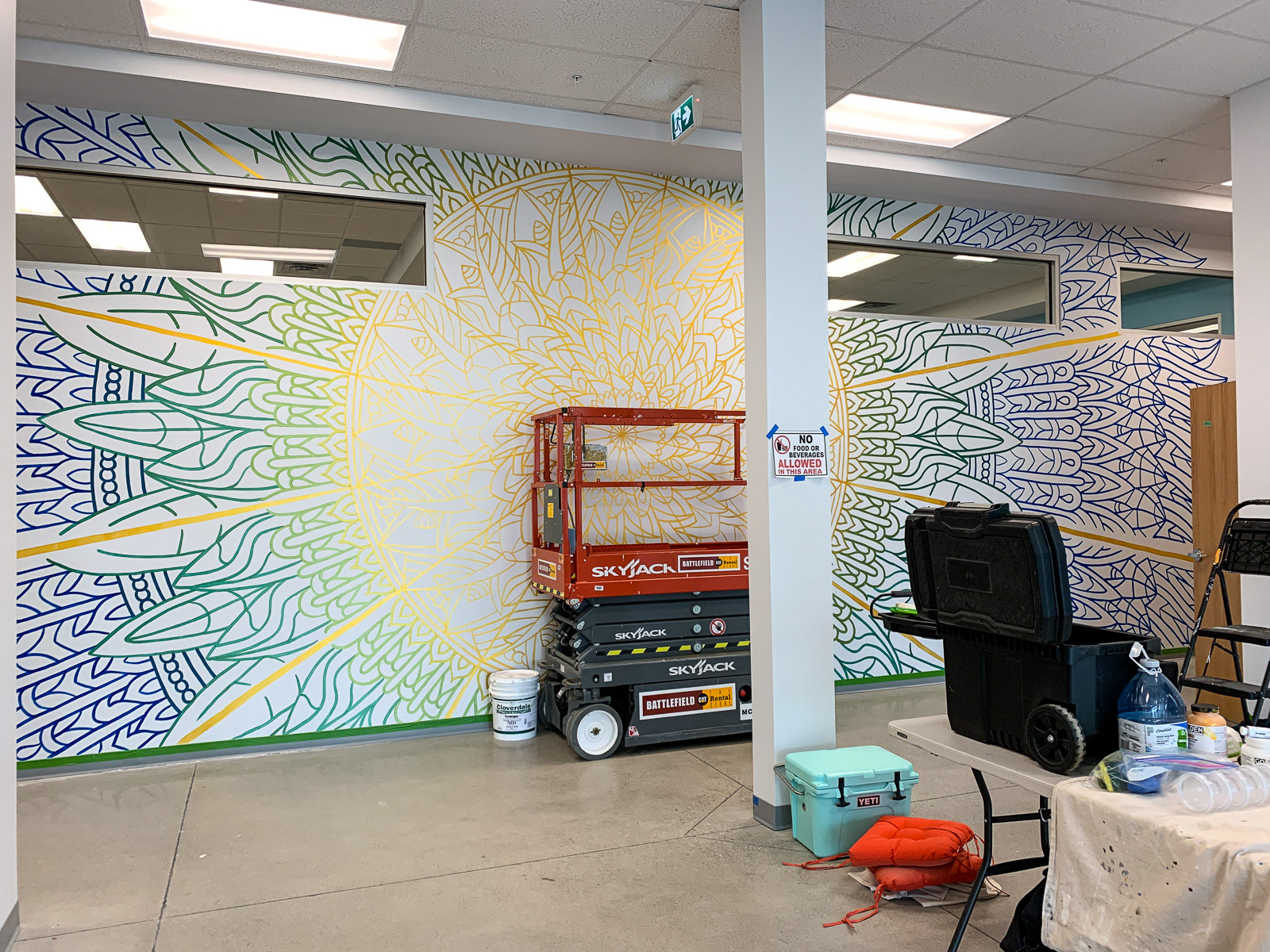 On day three, four, and five, we did a first-coat of each of the gradient colours so that we could plan out the final art in smaller phases. This part of the process also involved hand-mixing each of the variants of the colours; ranging from a toned-down primary cyan through to a rich, warm gold center.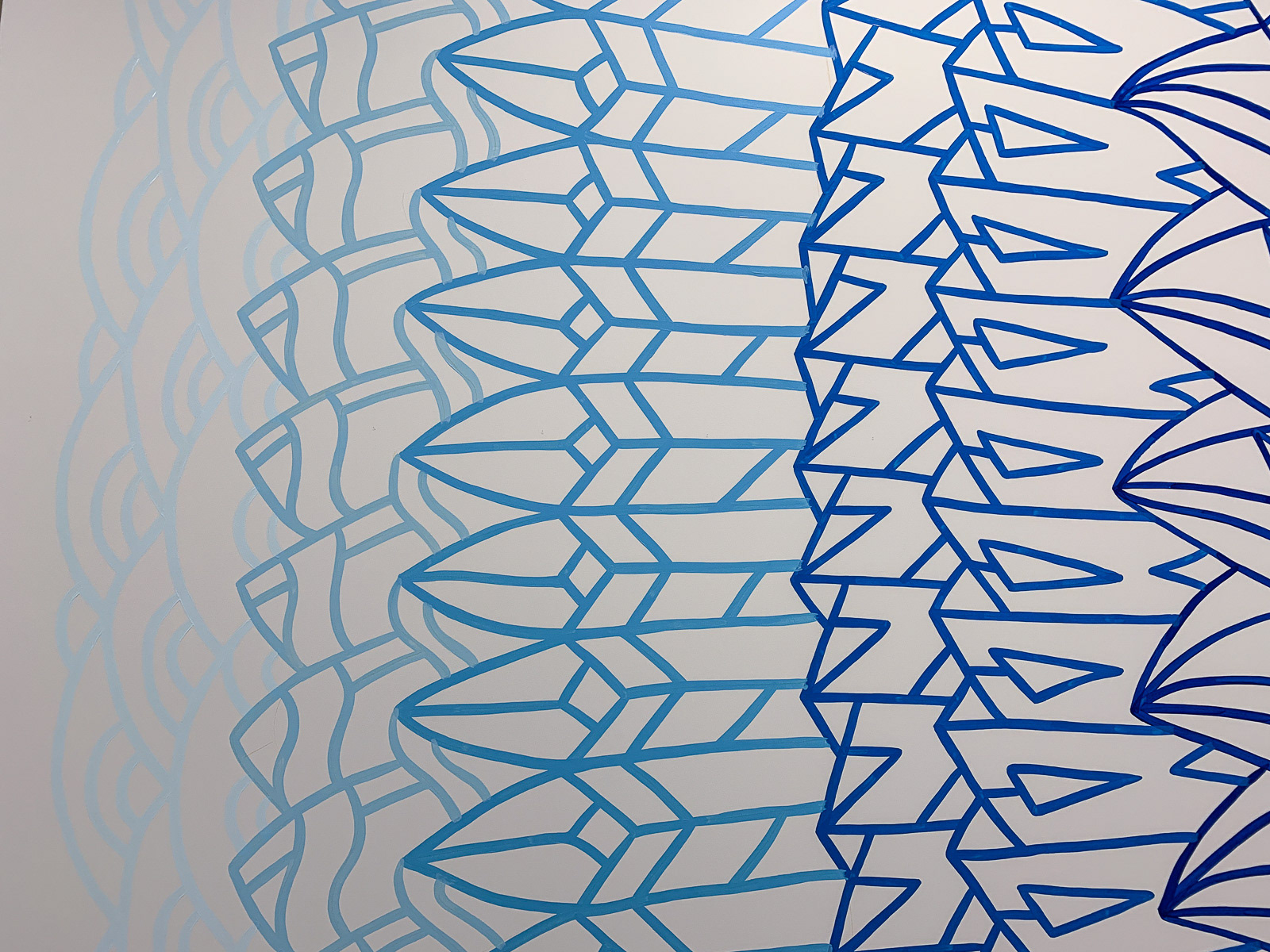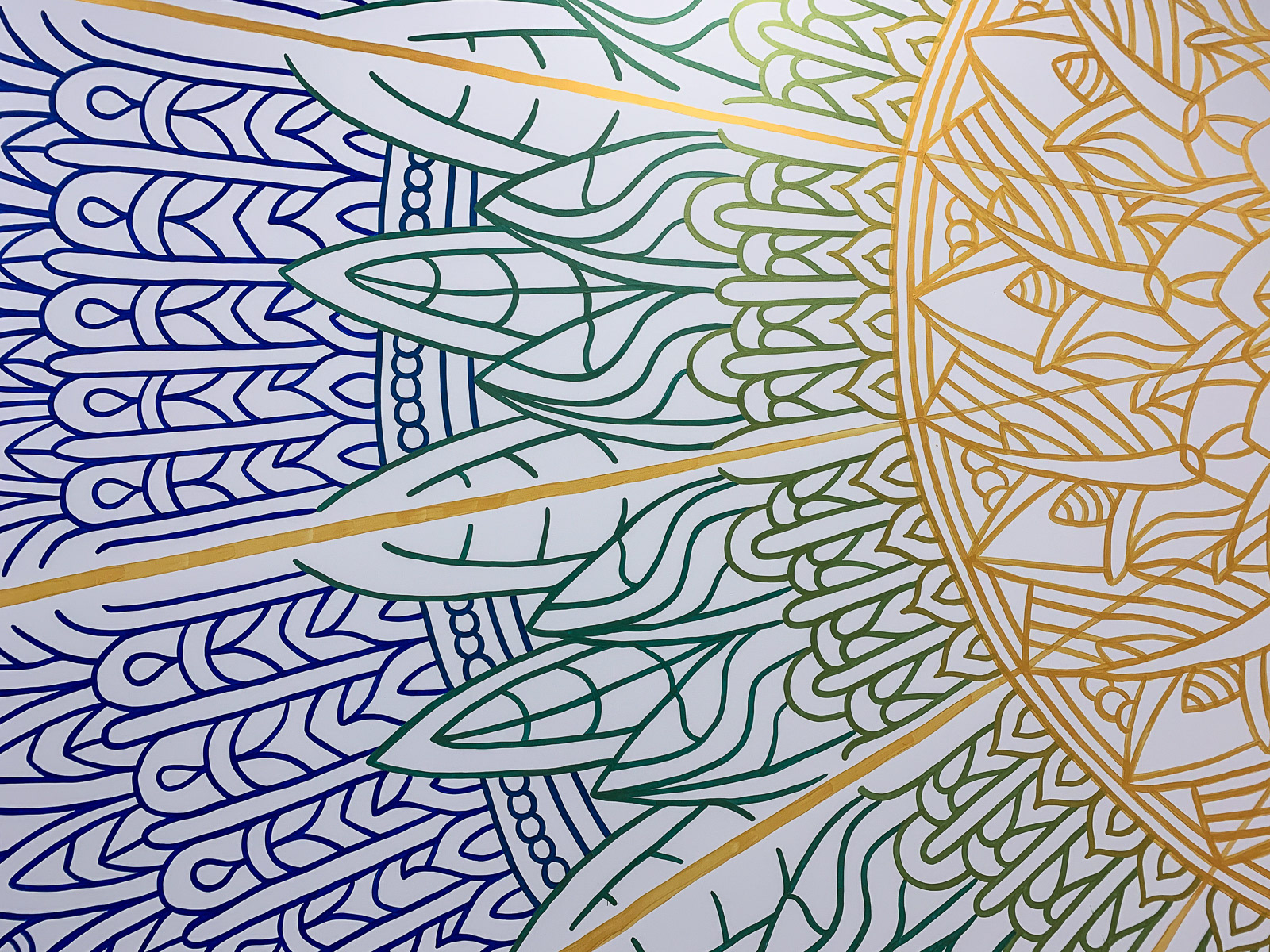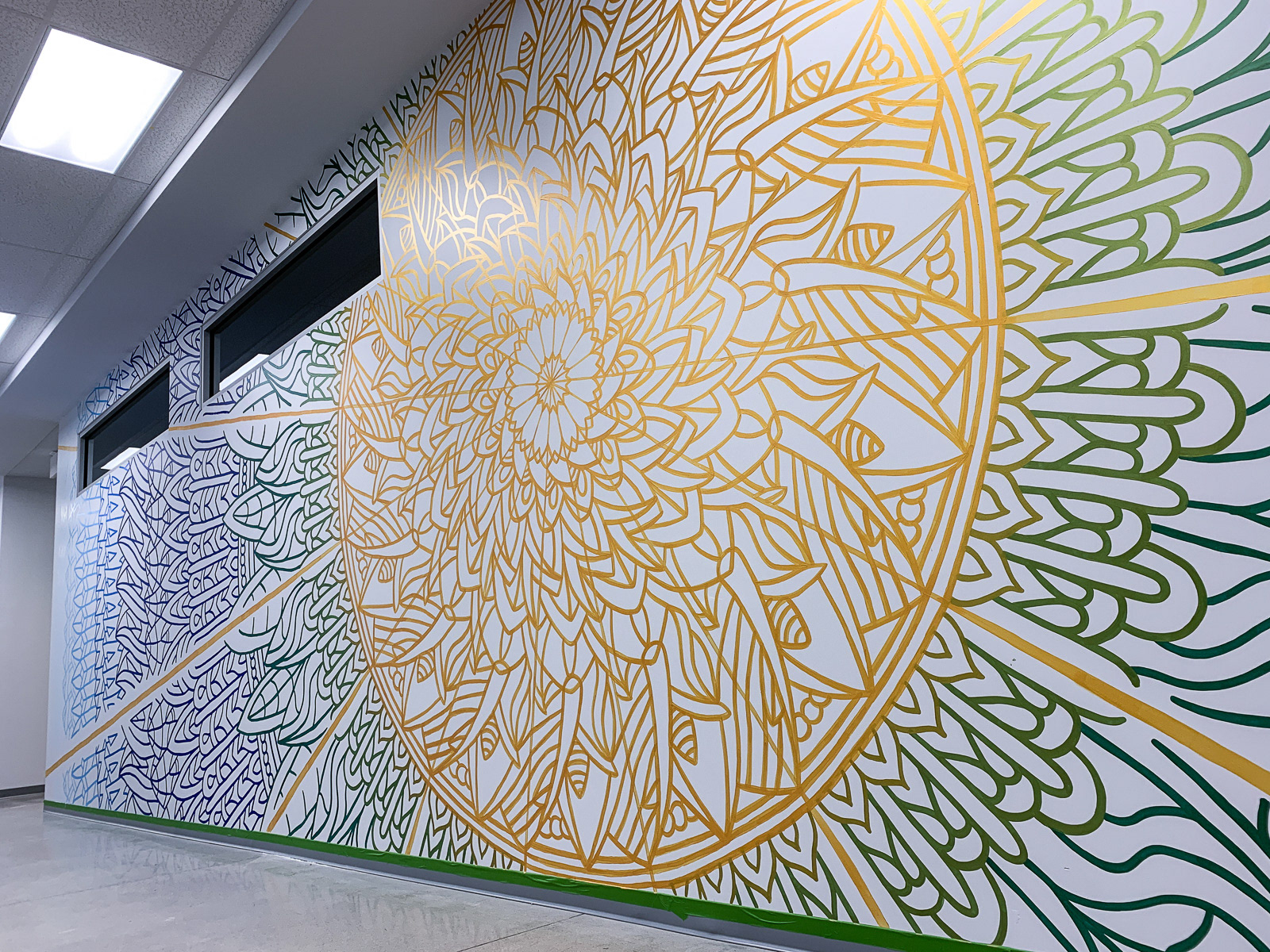 On the final days, six, seven, eight, we double and triple-coated each of the layers to bring out their true values and complexity. This multi-coat process was vital because we use heavily metallic paints that interact best with light when built up. With each additional layer we added, we saw a major uptake in the light response!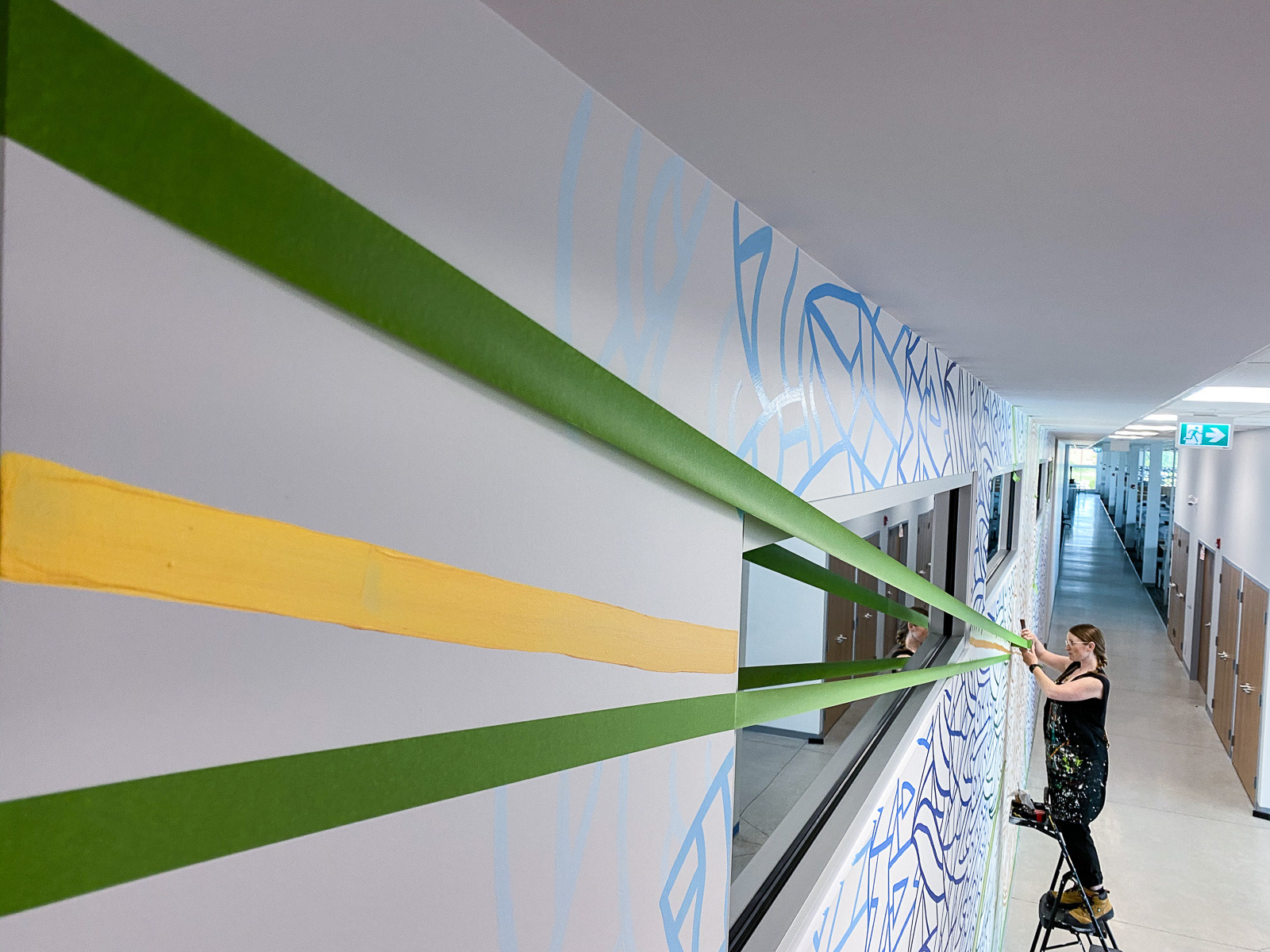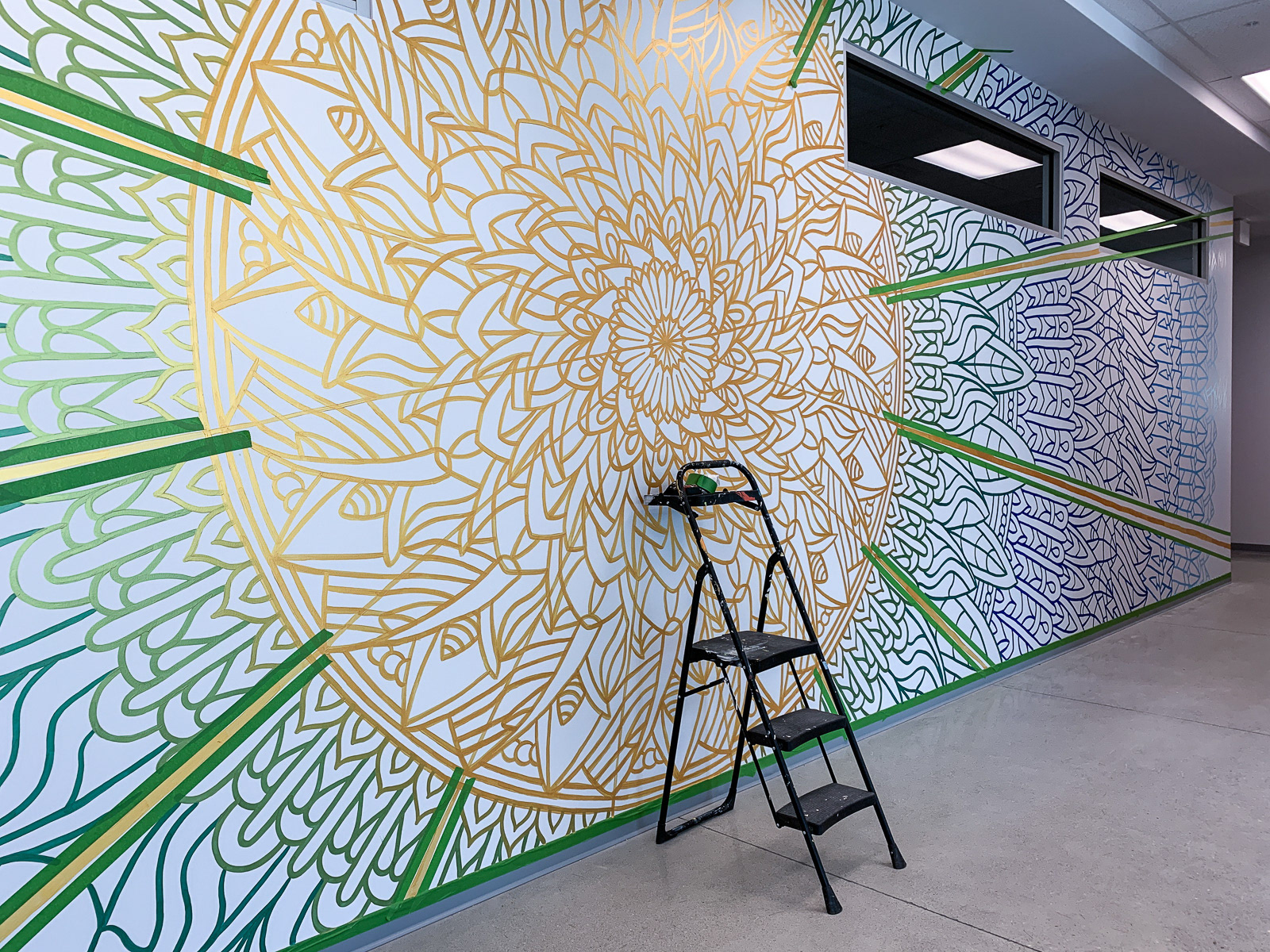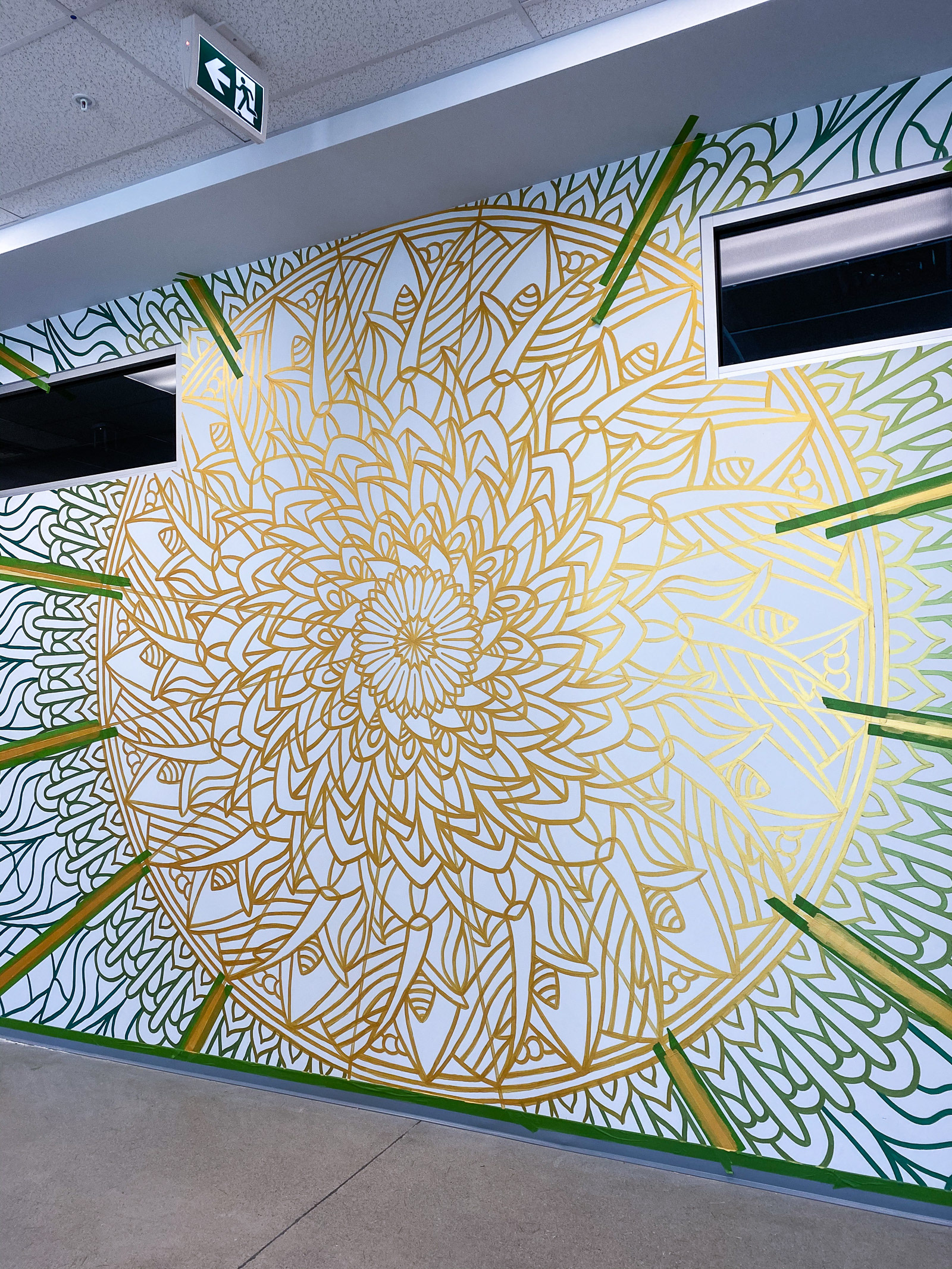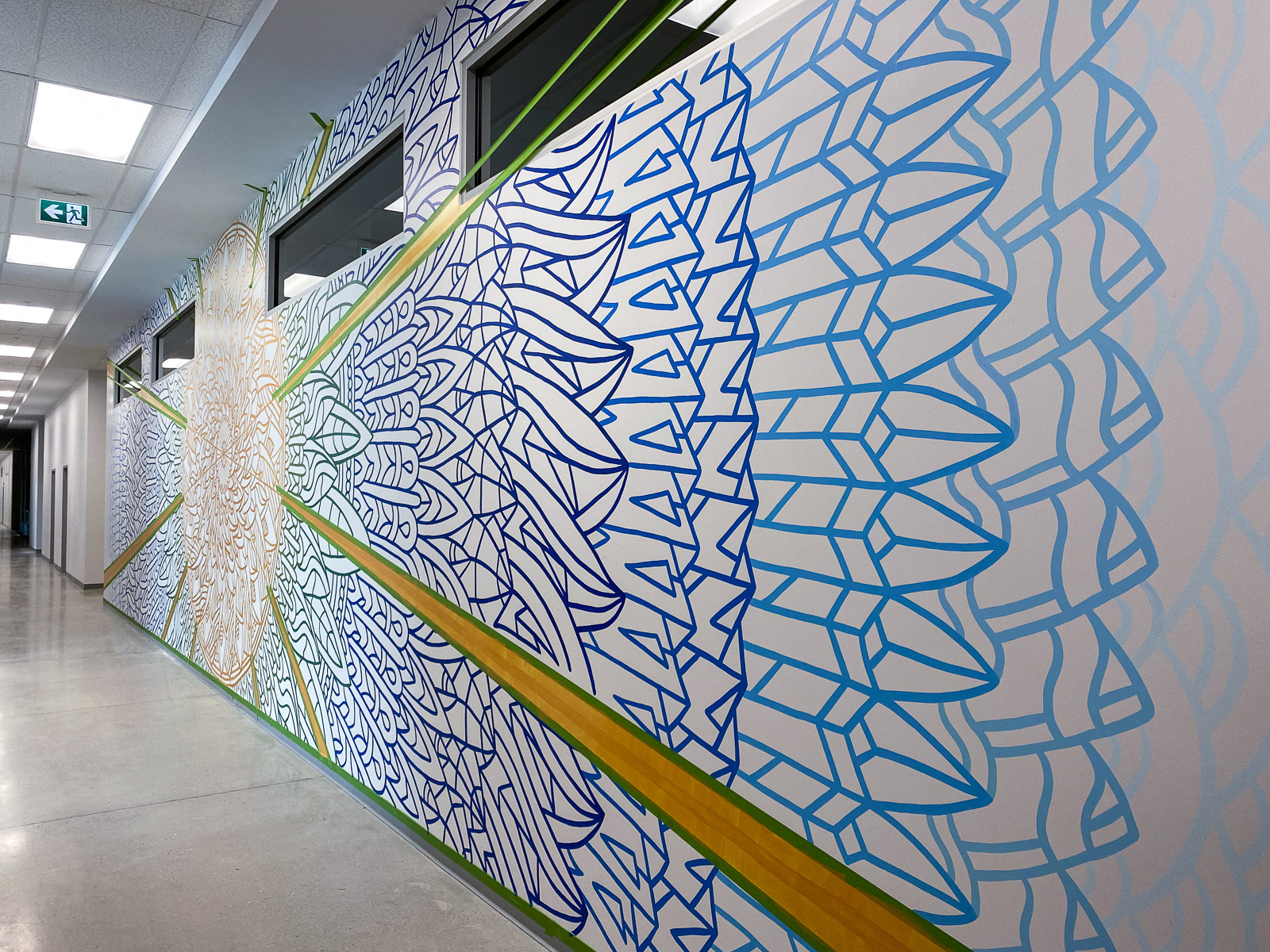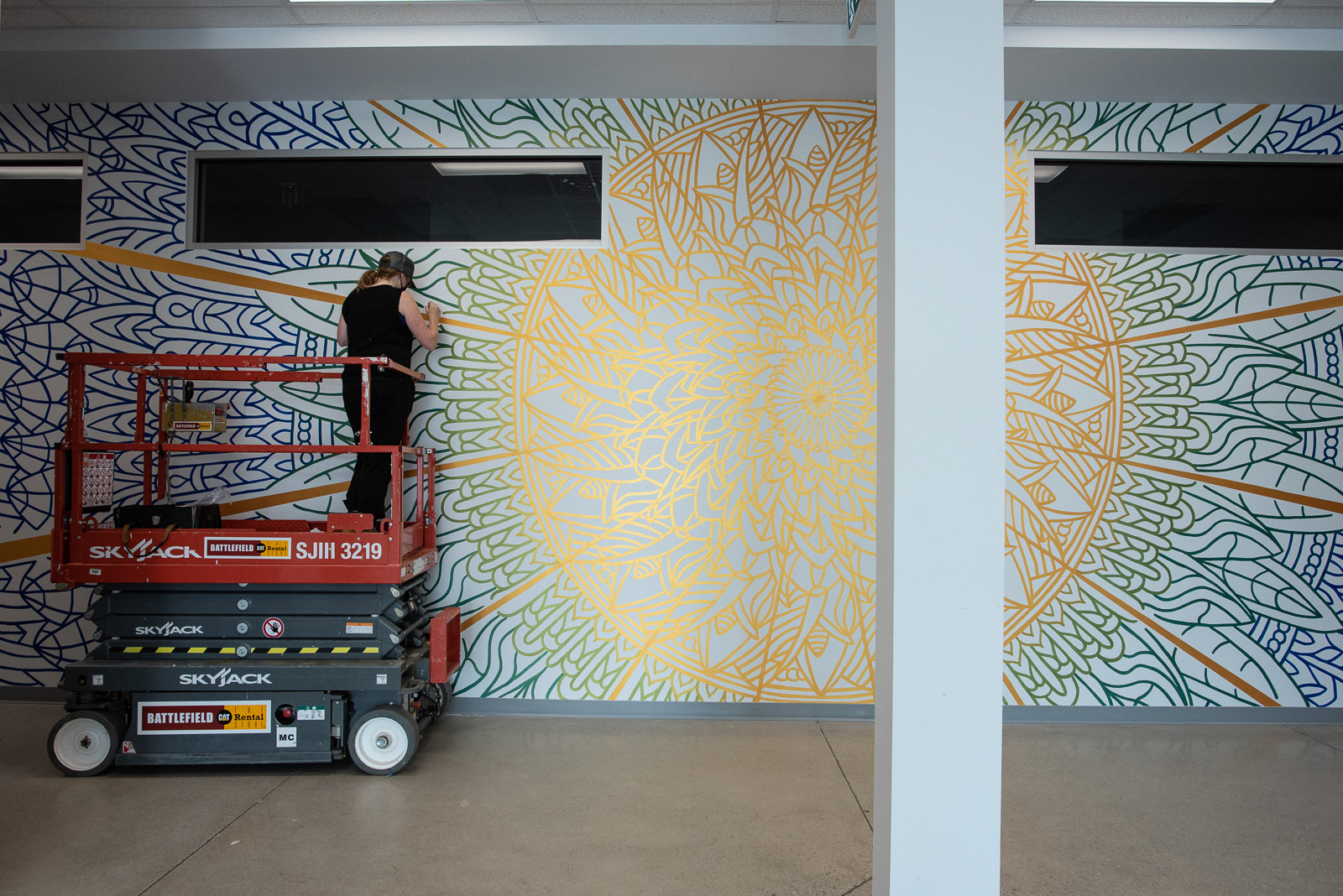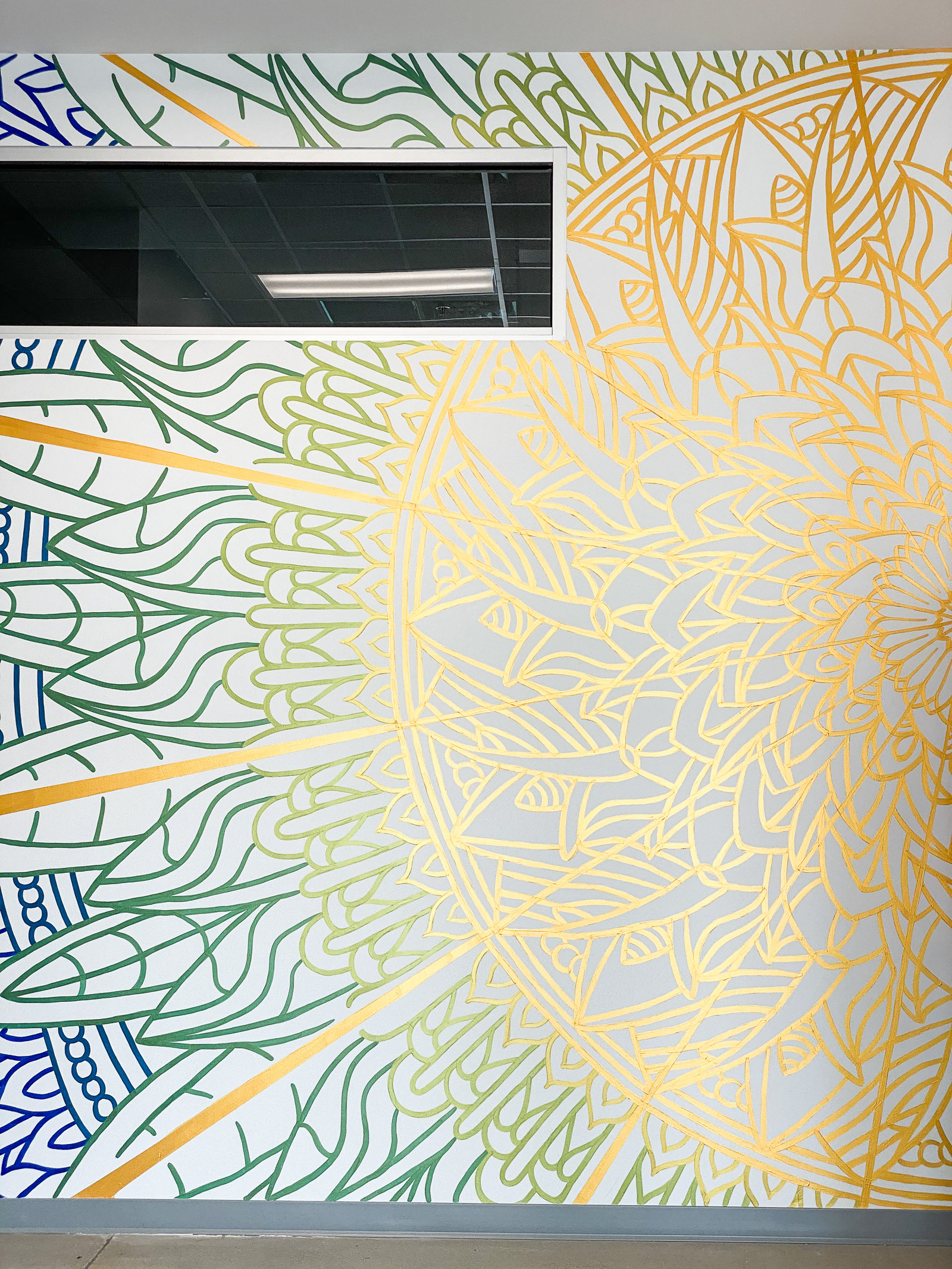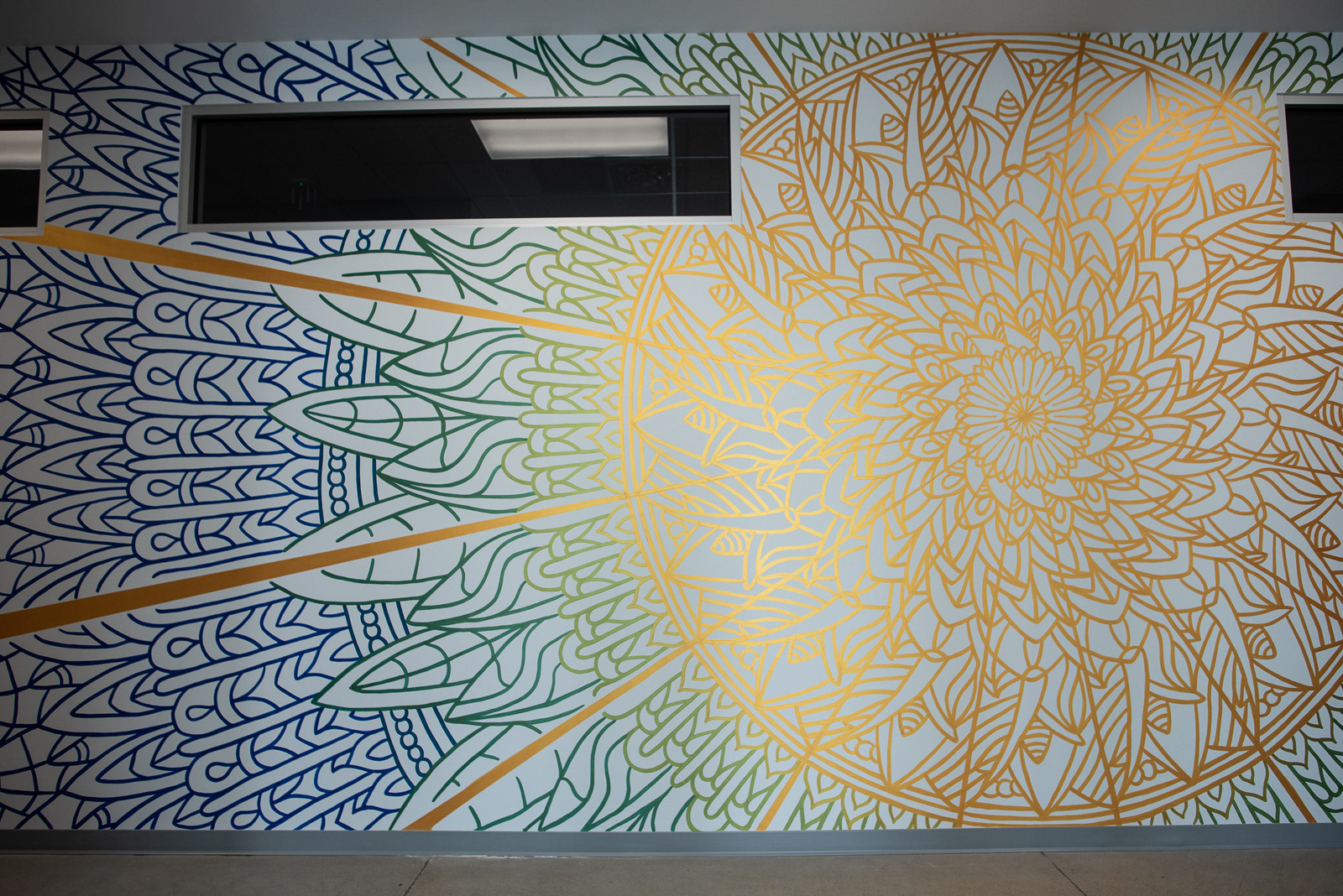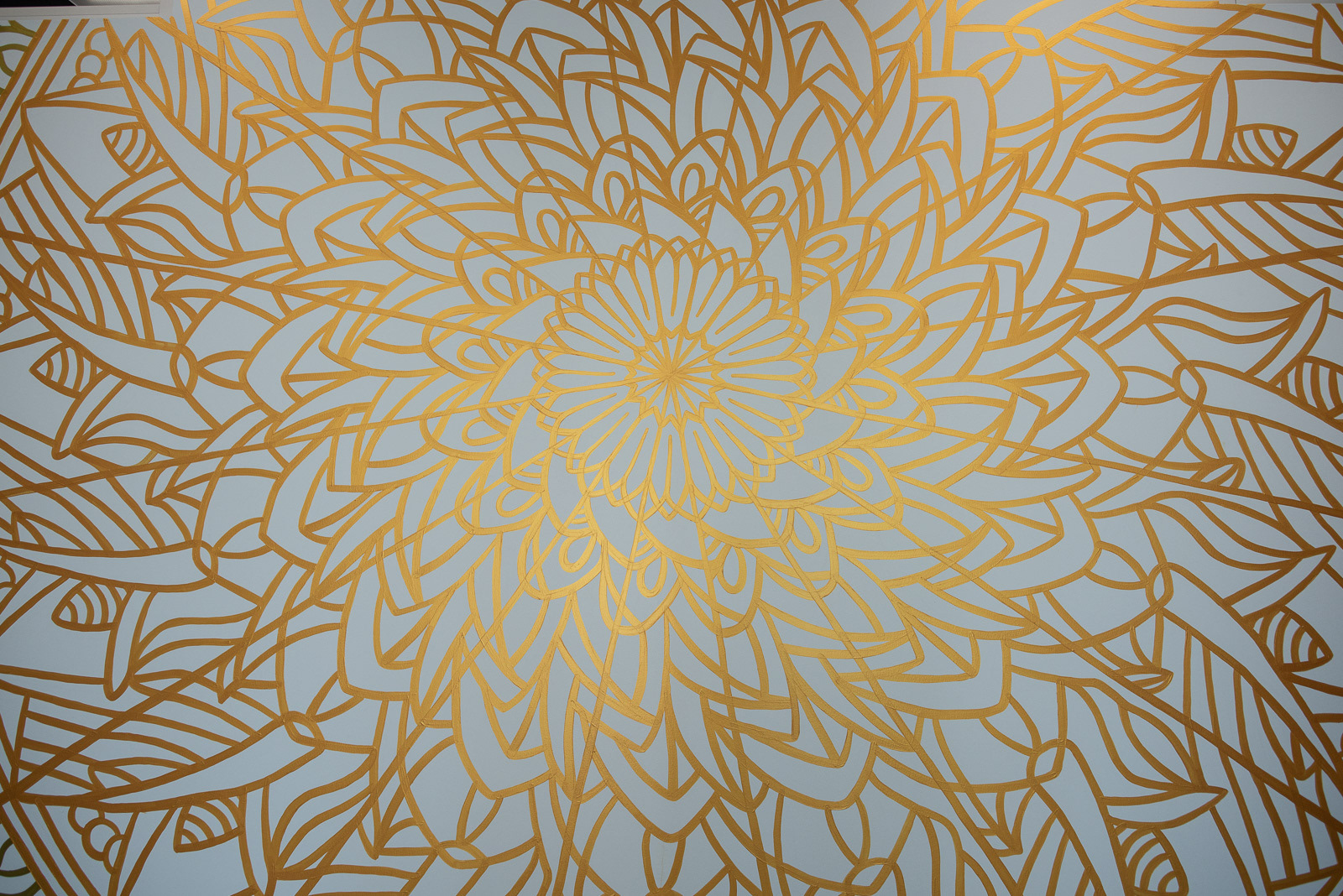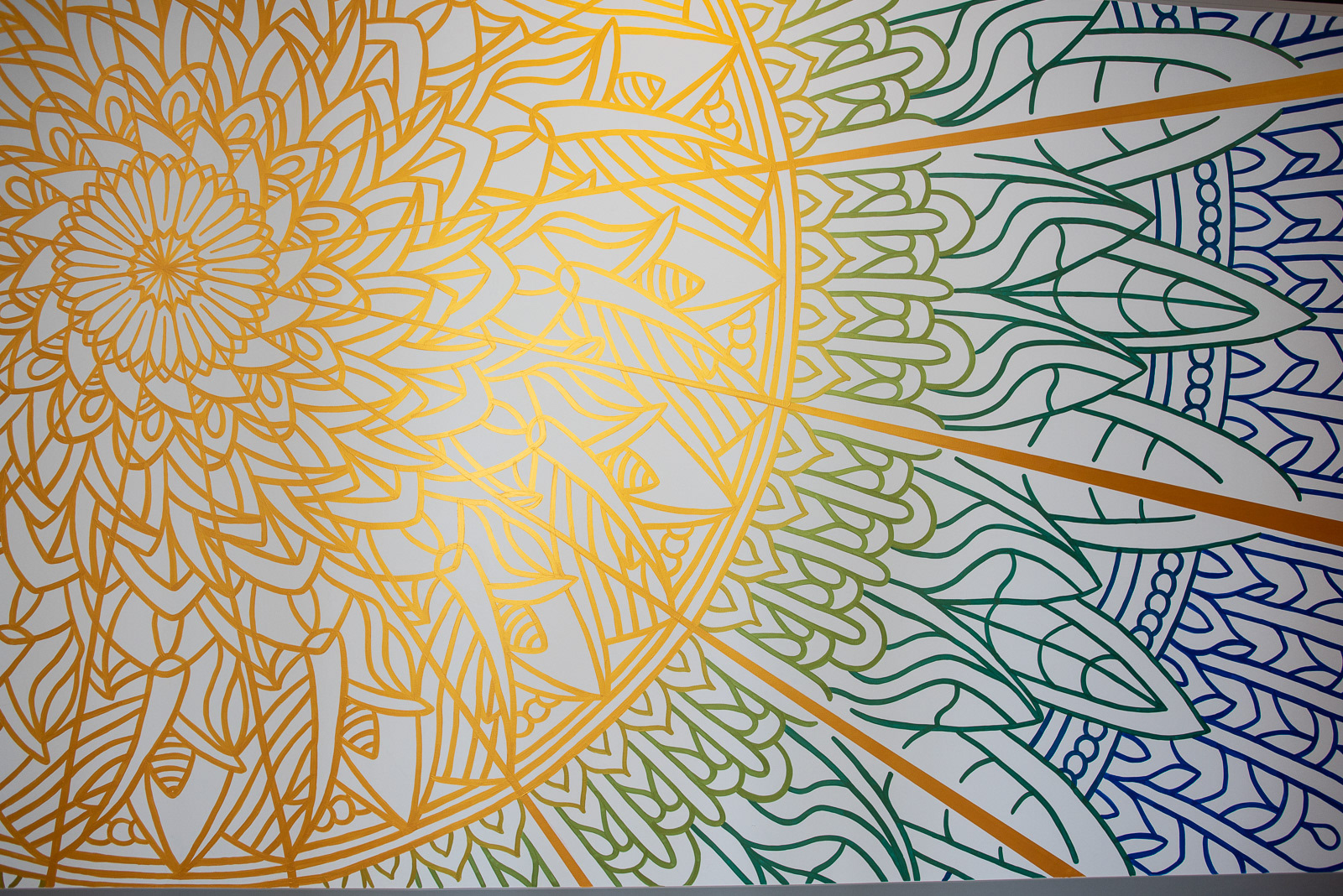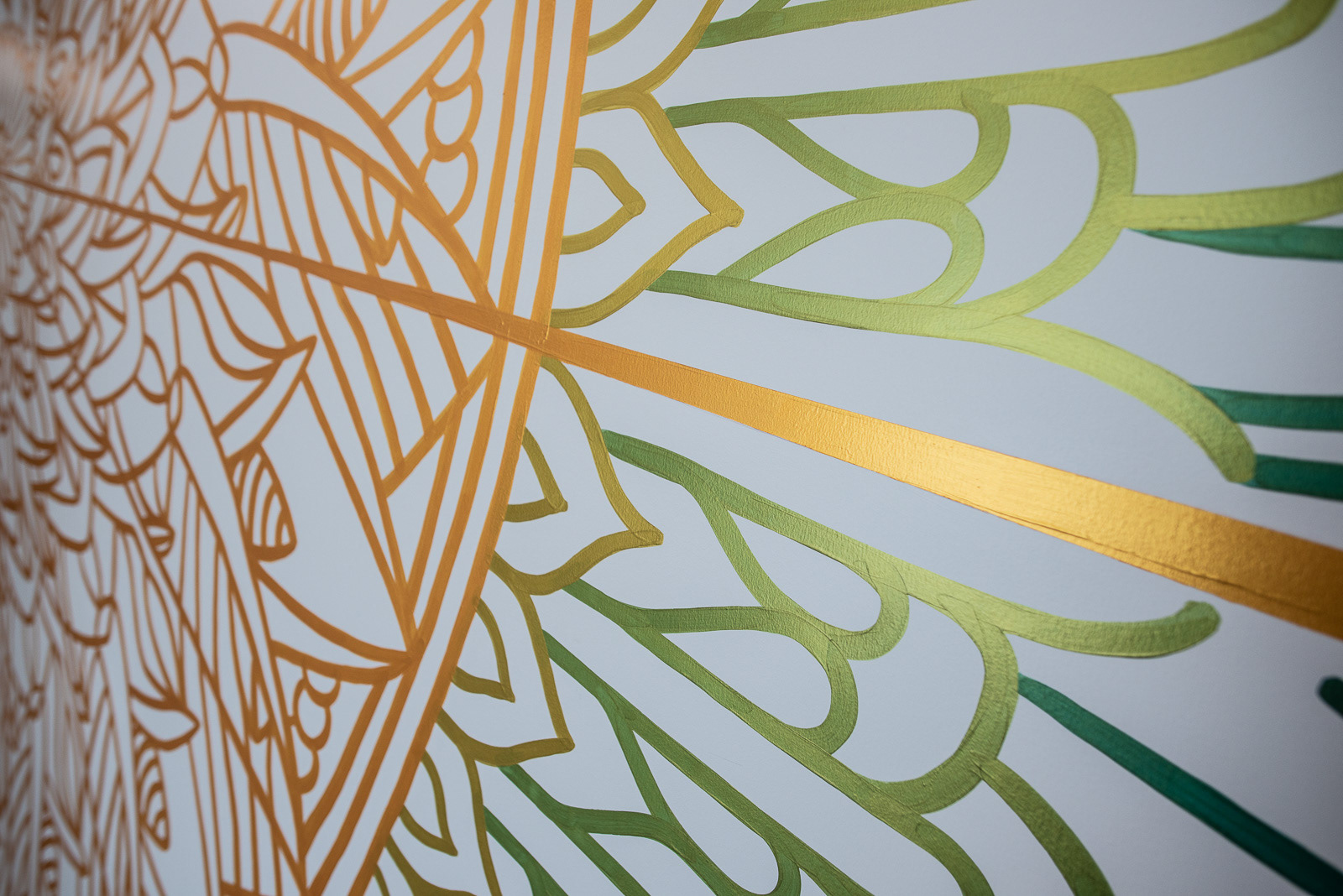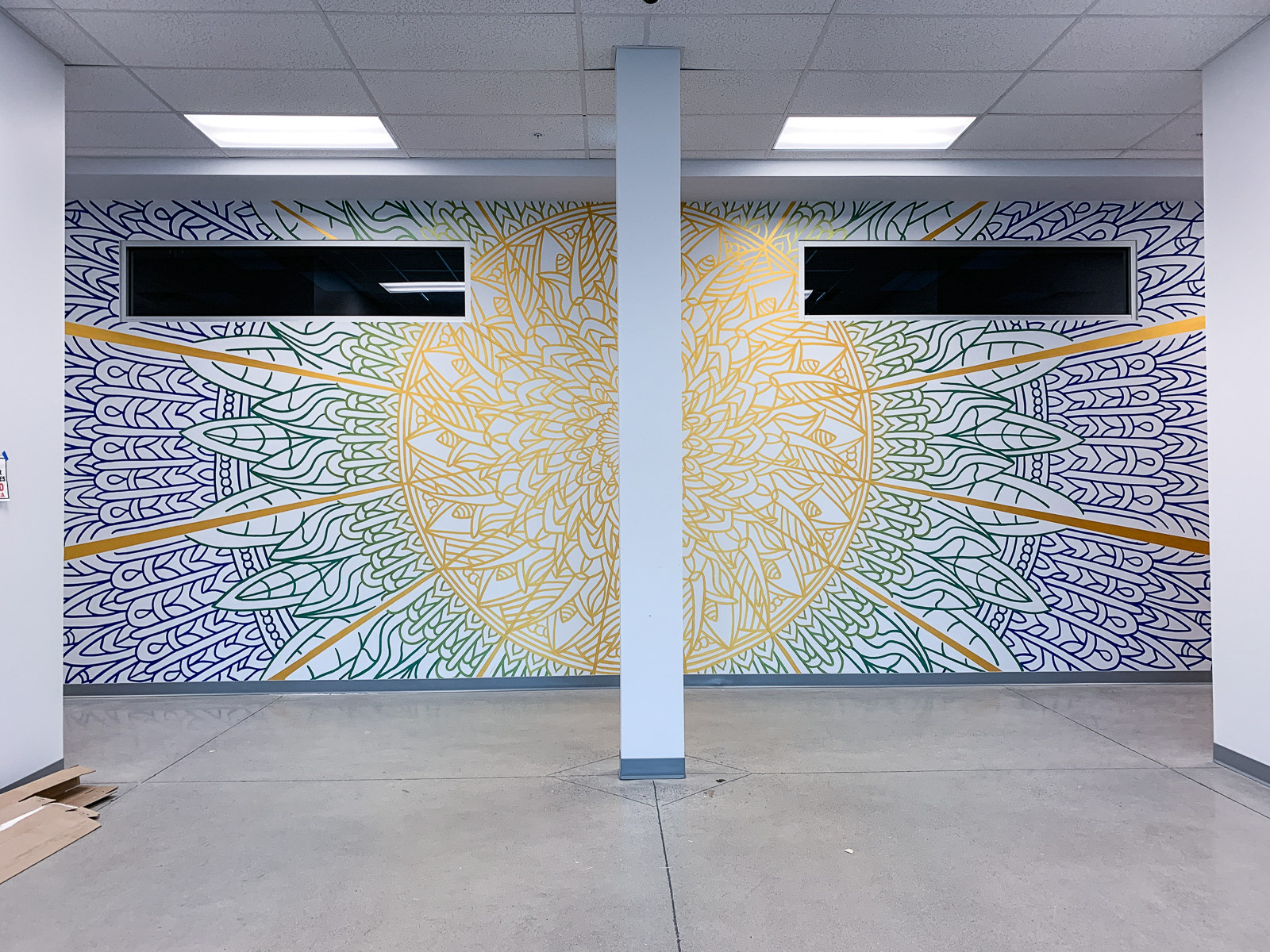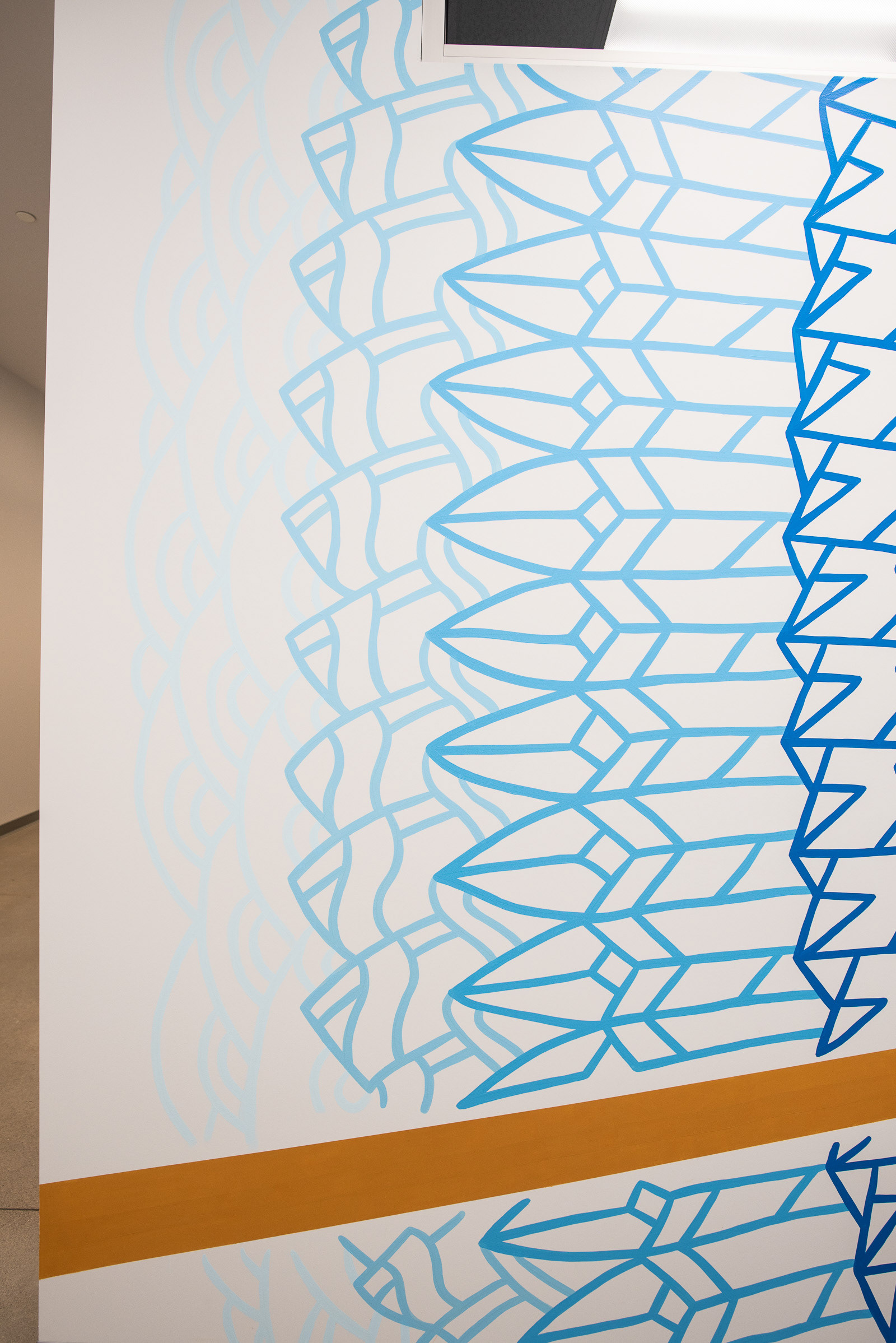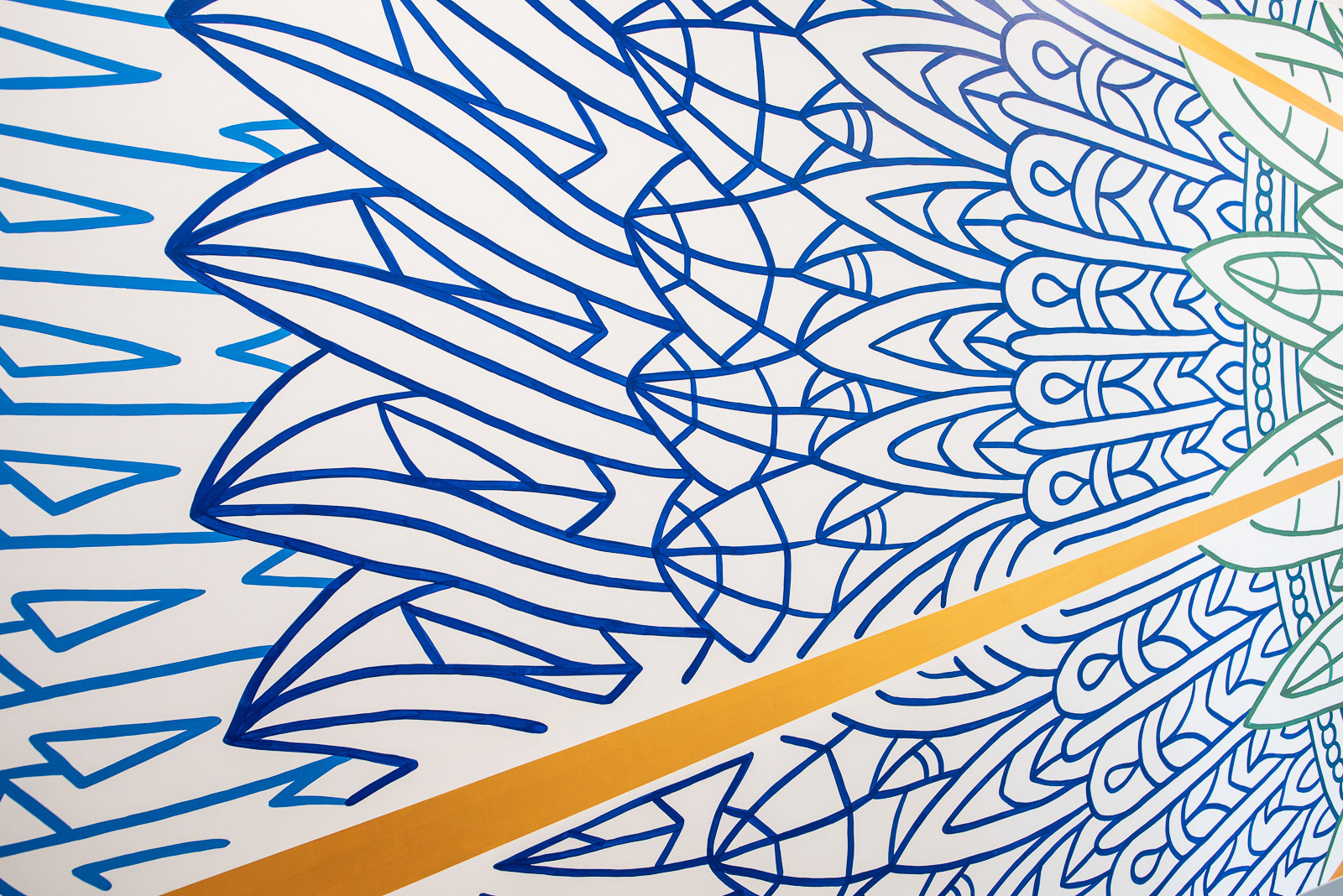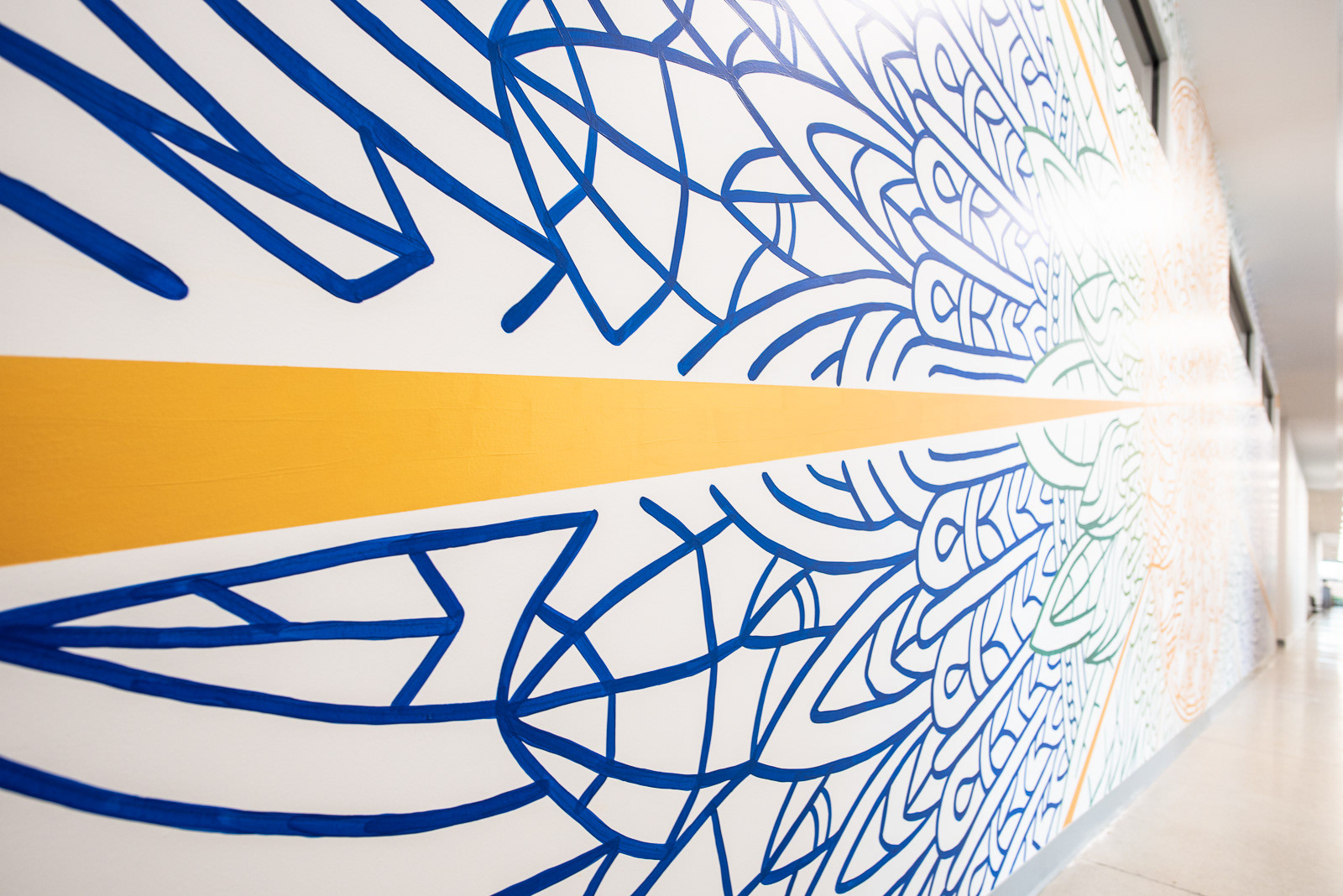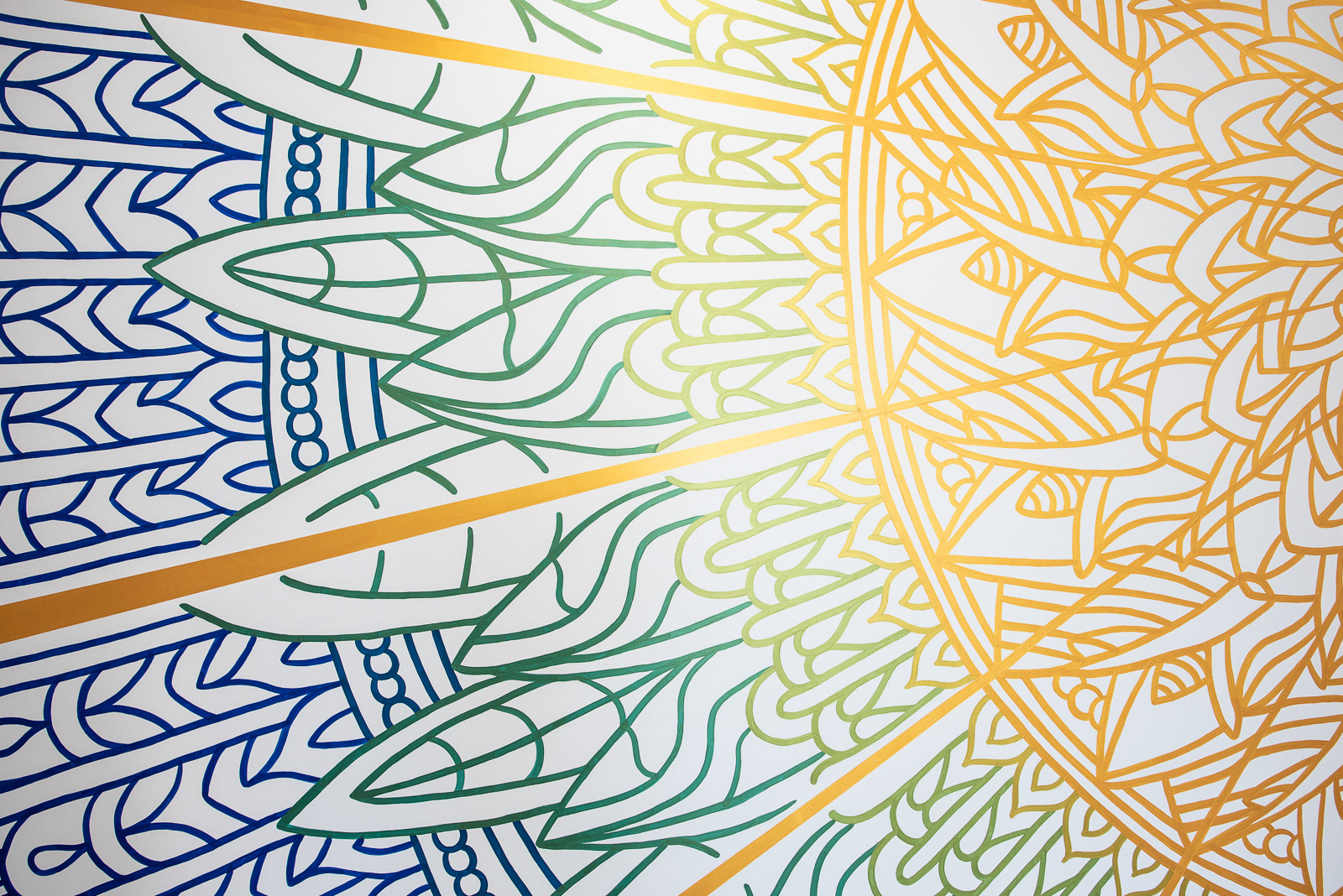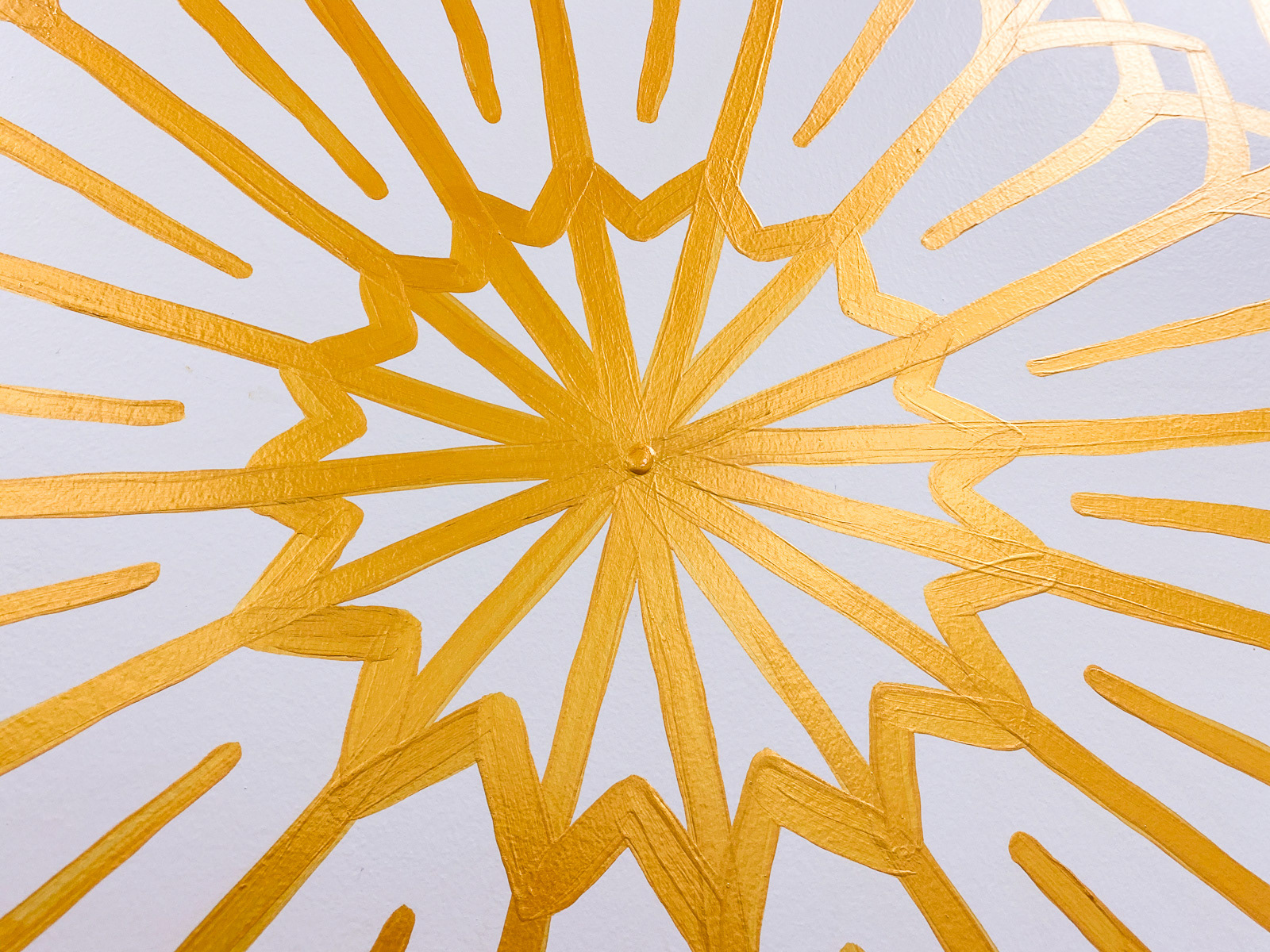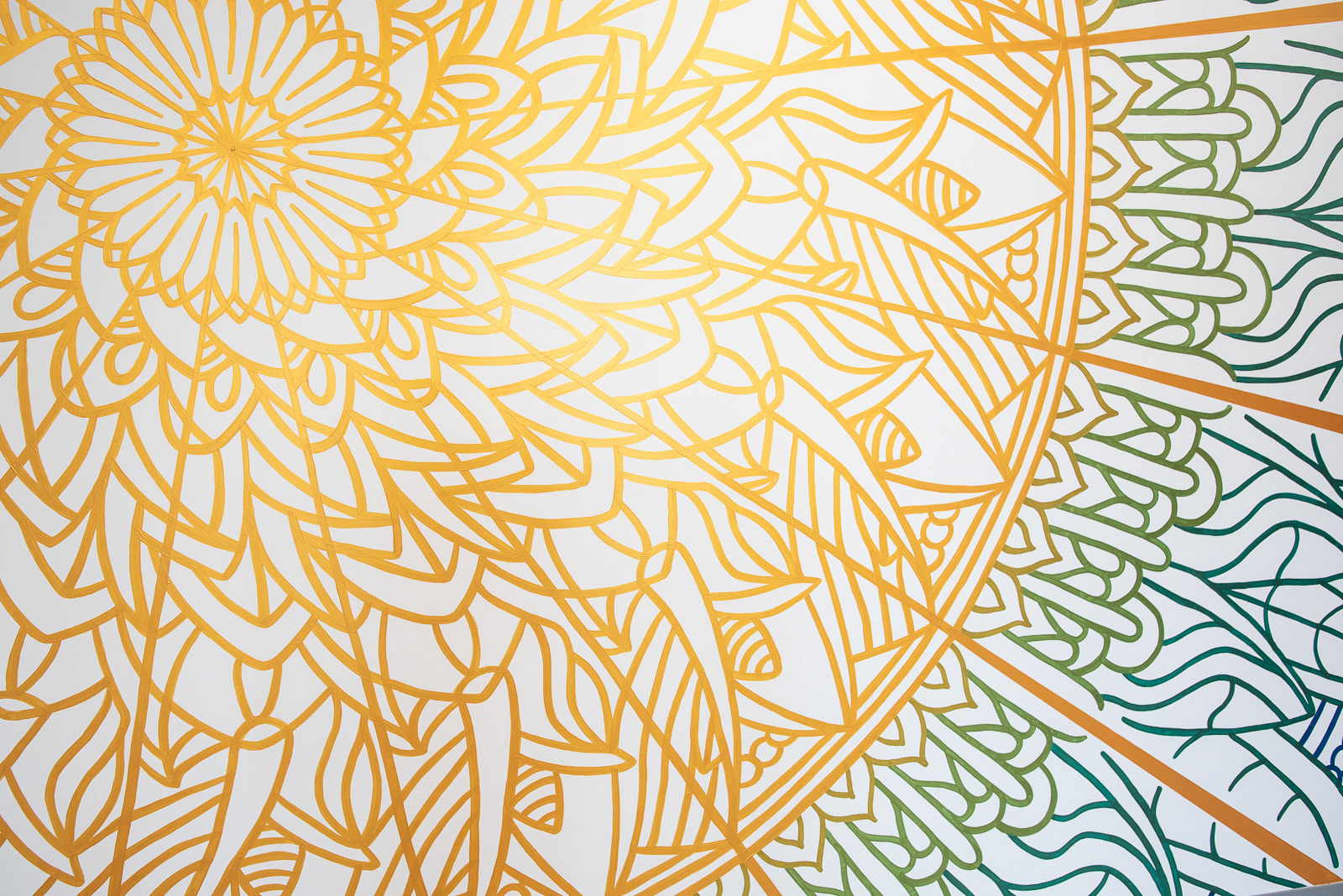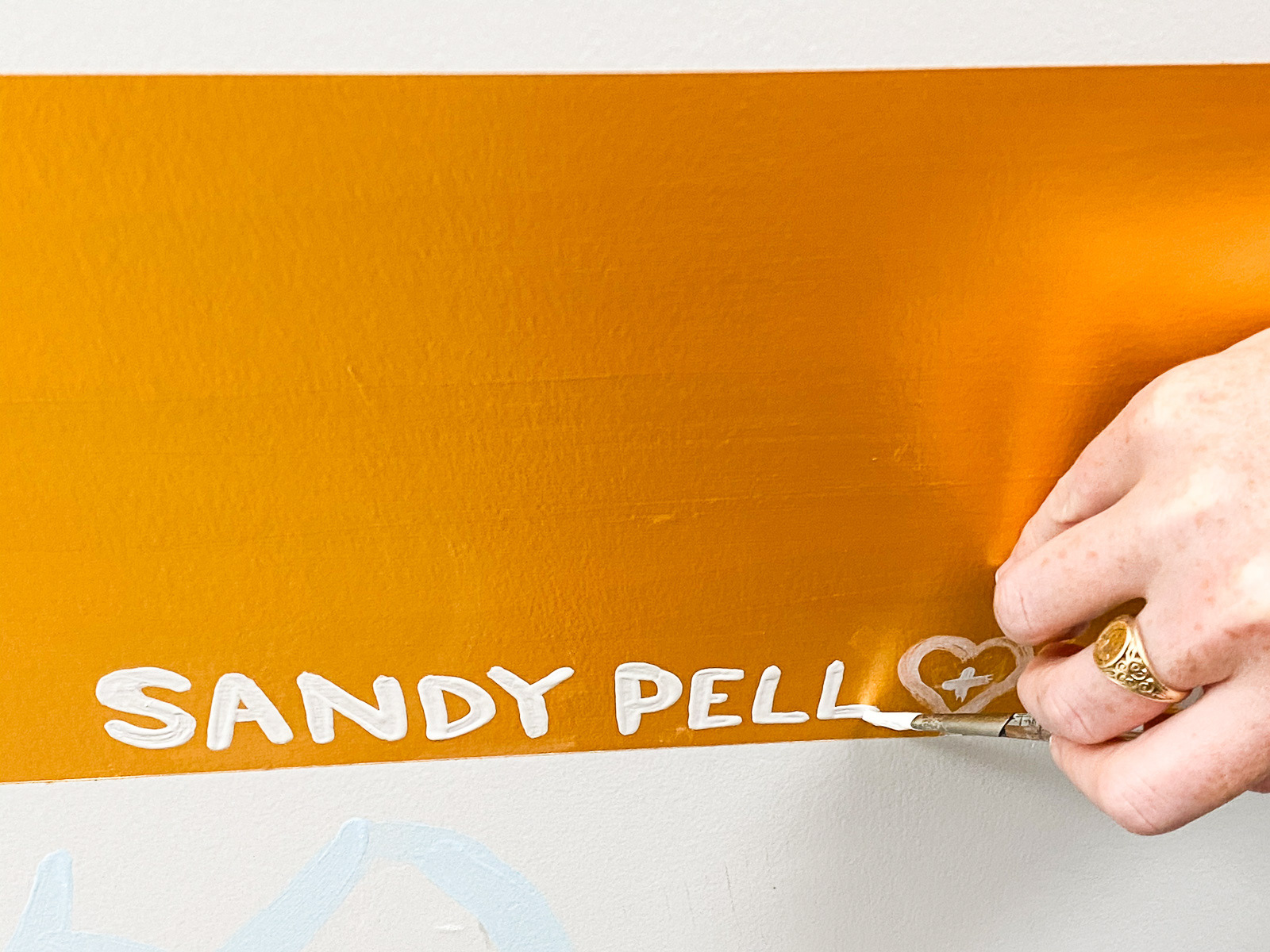 The Allianz mural took us a combined total of just over eight days to complete, with final touchups added on the final day, day nine.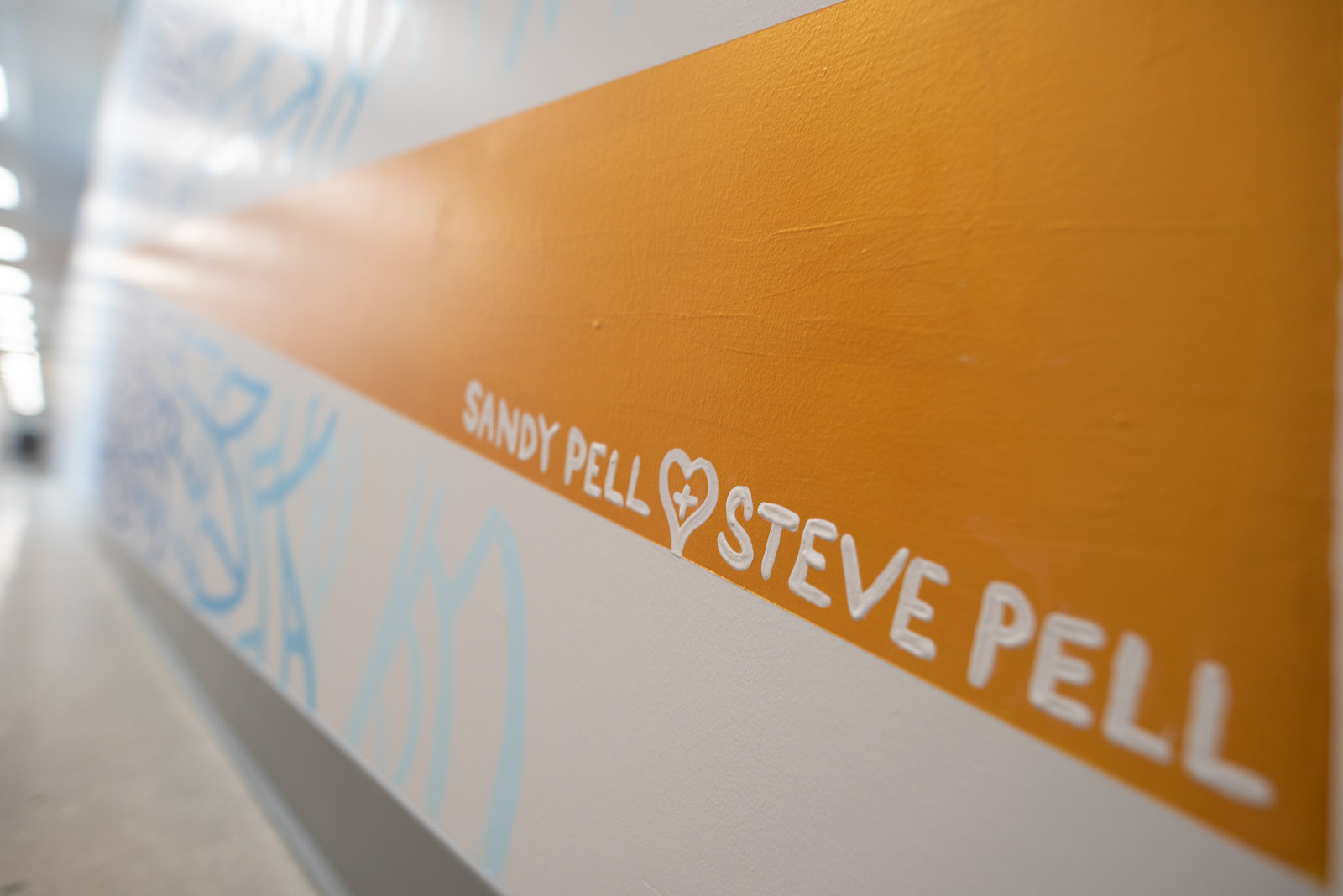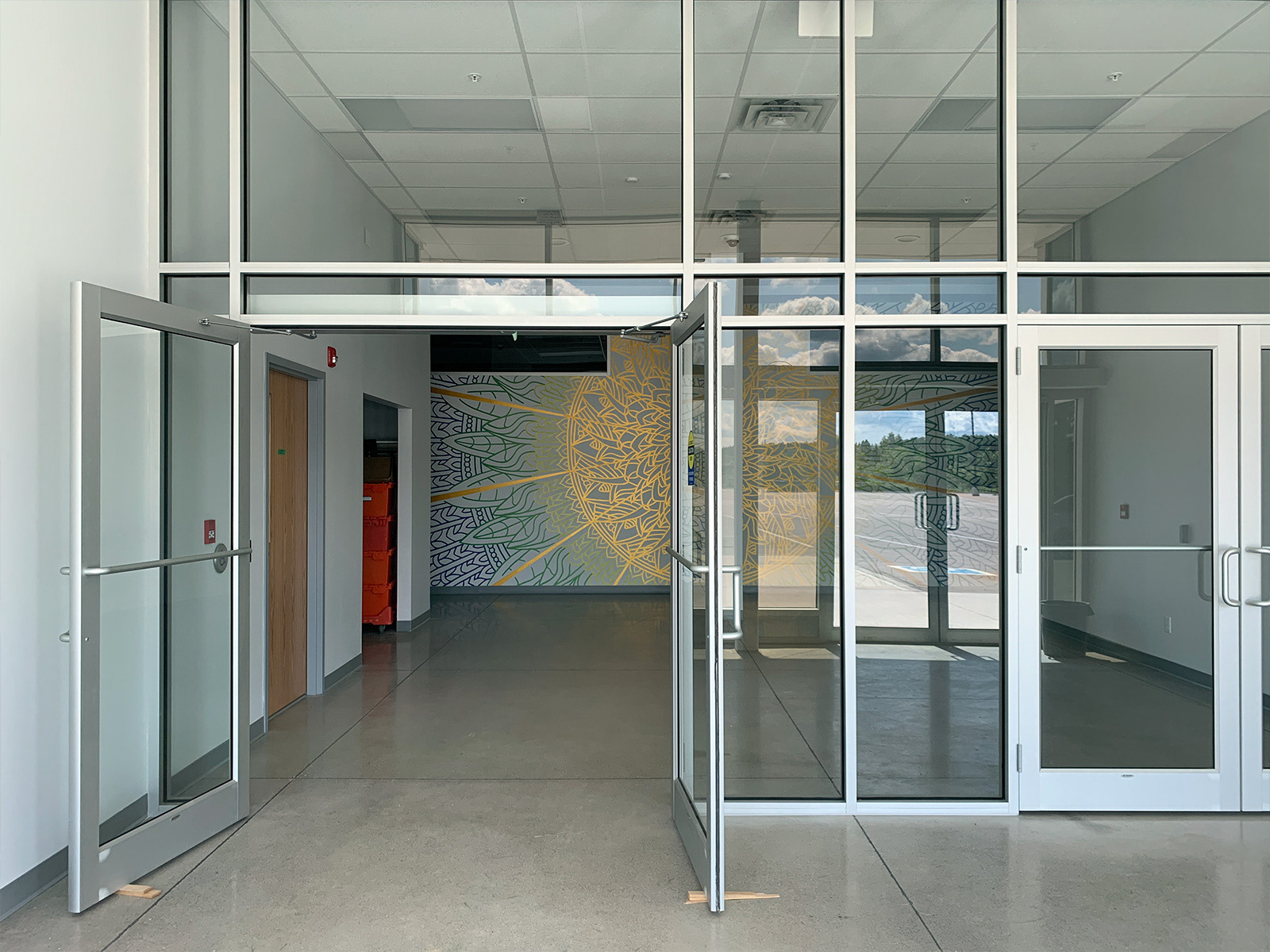 Finally, we completed custom signage to compliment the new mural. 
To make this signage extra special, we used the same iridescent gold paint to hand-detail in the pattern work in the border of the plaque. Once installed, this special sign would share a story that commemorated the opening of the beautiful new facility, as well as all of teams responsible for bringing the space to life.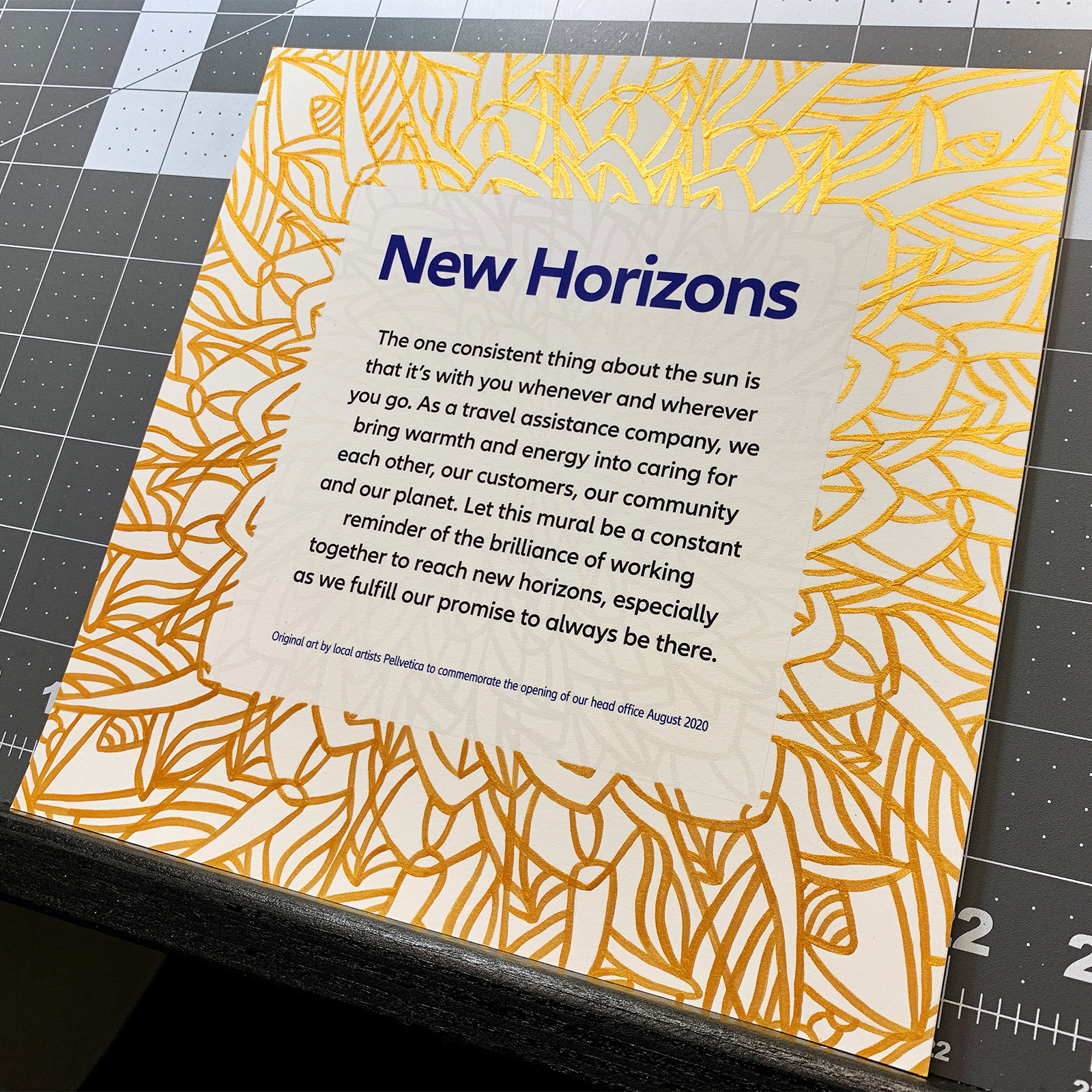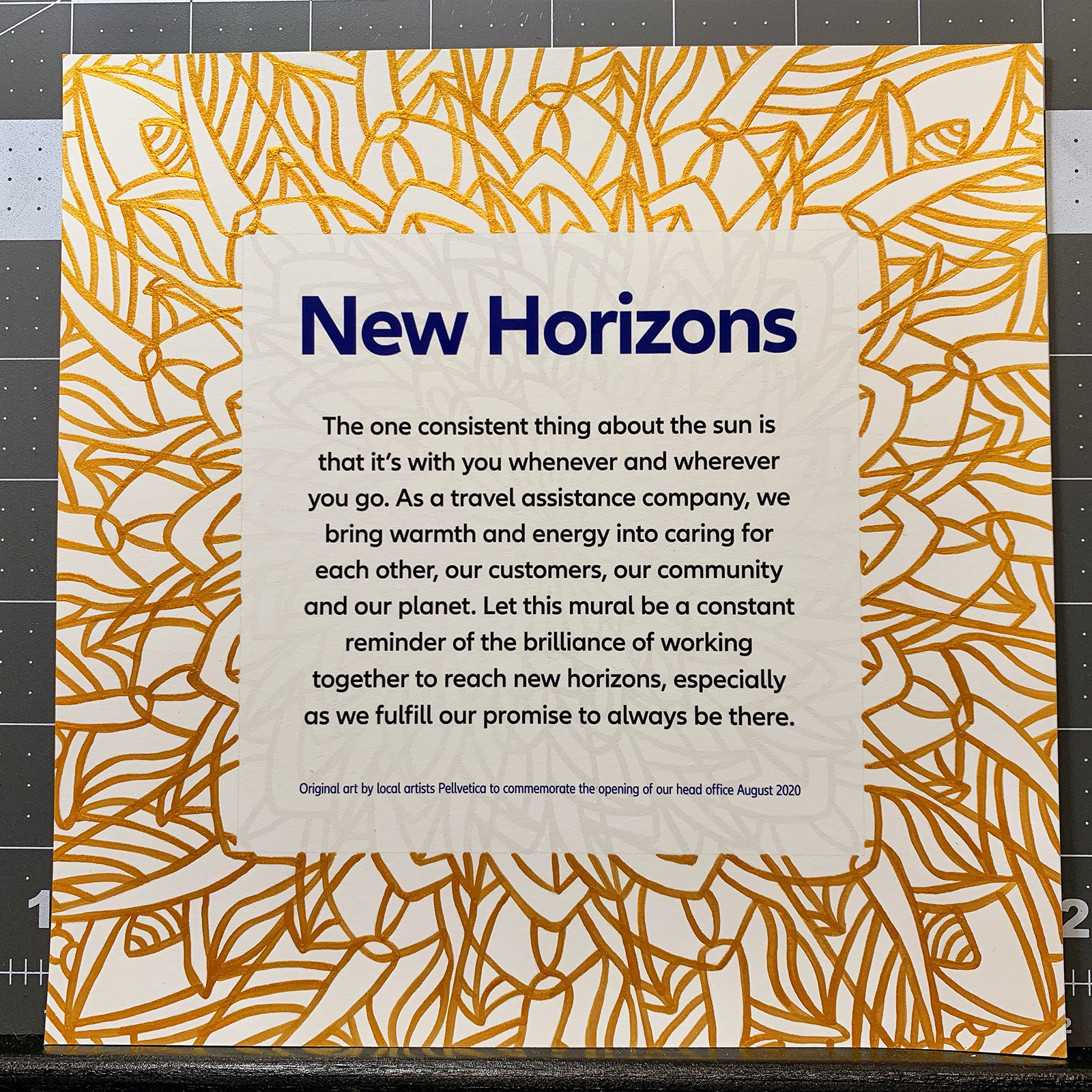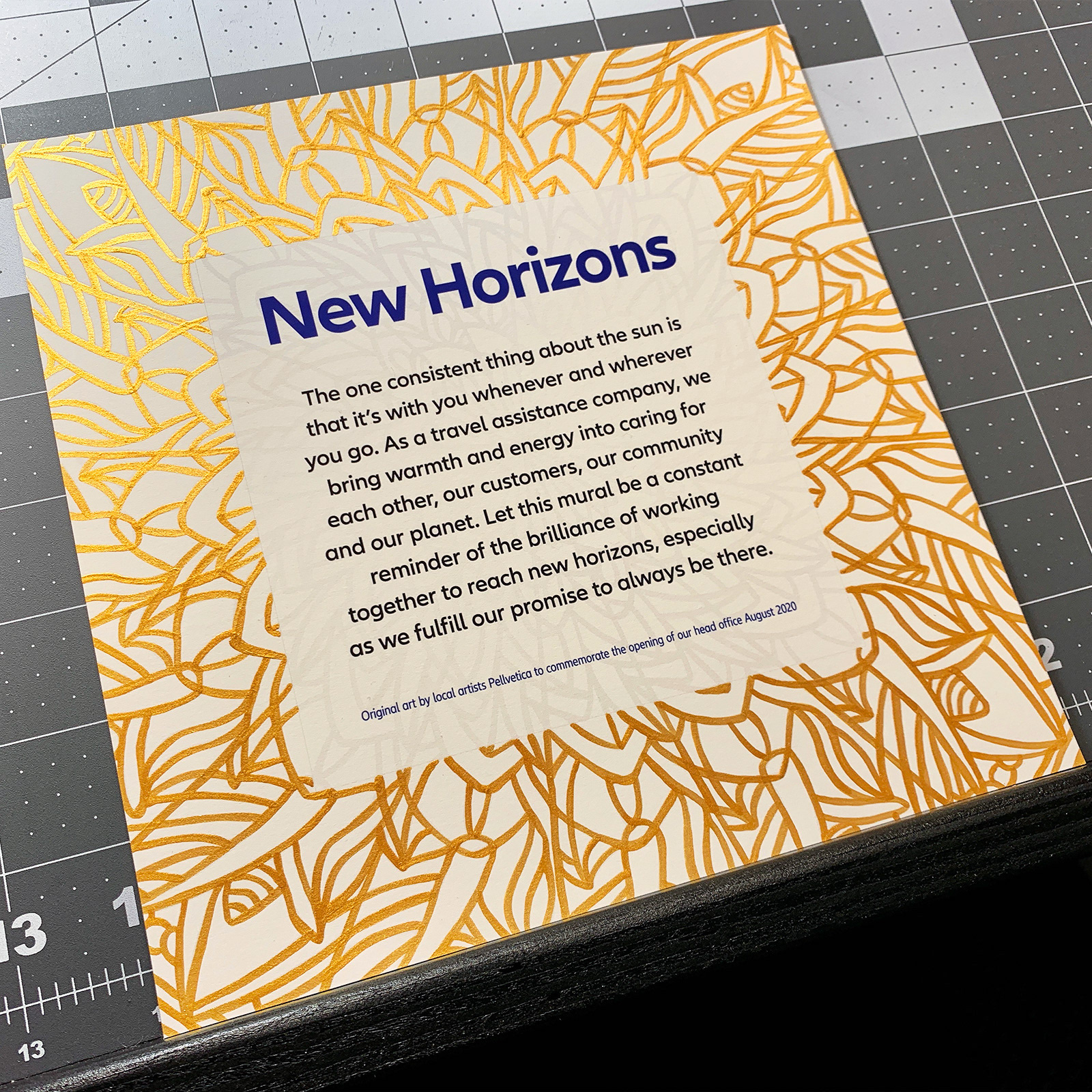 Big thank you to the Allianz Team!
​​​​​​​