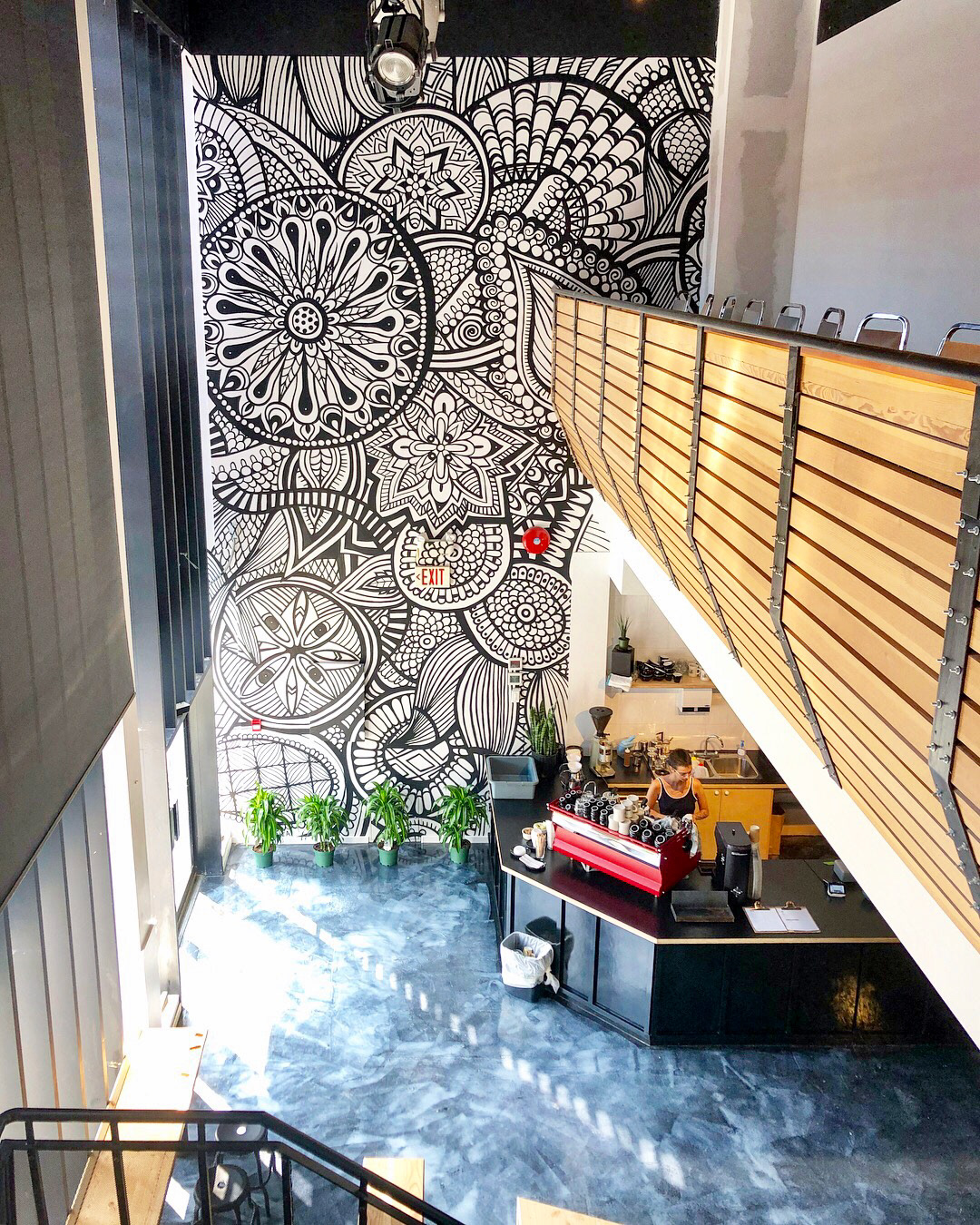 Vancouver just got an epic new mural that you have to see (PHOTOS)
On July 27, Kafka's second location on Great Northern Way 
officially opened,
 but it's clear to see the spot offers more than just a solid cup of Joe.
On its opening day, the café also revealed the stunning 300-sq-ft floor-to-ceiling mural on its main and Mezzanine wall.
"This mural uses the exact same design as the Main Street location (Kafka's at 2525 Main Street) to keep brand consistency intact," said commercial mural artists Sandy Pell and Steve Pell.
After doing a fantastic job at recreating the face of Kafka's first location in 2016 as part of the Inaugural Vancouver Mural Festival, 
Sandy and Steve Pell
 were invited back by café owner Aaron Kafka this year for a second project.
"Steve and Sandy and I got along really well; we understand each other," said Kafka. "For me, it was really like a no-brainer there: When I opened another location, they would be part of it. I told them to do whatever they wanted [with the mural]."
He explains that much like Kafka's first location on Main, the new 75-seat café will also function as an art gallery to showcase and support local emerging artists and their artworks.
Painting this mural was no easy job. Sandy Pell and Steve Pell spent more than 80 hours researching, planning, and executing this project, with some help from two young aspiring artists, eight-year-old Sofia Gershman and four-year-old Ethan Gershman.
The two artists began their collaboration in 2013, and they have since worked with numerous global brands like Boeing Canada, Clearly Contacts, and the Royal Canadian Mint.
Despite having wildly different aesthetic tastes, they still manage to combine their styles in a way that transforms blank spaces into remarkable places.
The new café is now open seven days a week with unfixed hours. In addition to its selection of coffee and pastries, it will also venture into full meal service with a brand new menu created by Chef Tret Jordan.
Before the location gets crowded, you should pop by for some of the best brews in the city (and obviously, take many photos). Trust us, the mural looks even cooler in person.
Address: 577 Great Northern Way, Vancouver, British Columbia, Canada